Virginia, West Virginia, Maryland State Liaison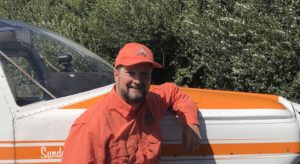 Alan was one of those kids who always looked up at the sky every time he heard an airplane overhead. His family had no aviation background, but he was so fascinated with airplanes that he promised himself that no matter what his career might be, when he started making money, he would learn to fly. 
He graduated from the University of Tennessee dental school in 1987 and began a residency program at East Carolina University a month later. True to his promise, he took his first paycheck to the local airport, endorsed the check, and handed it to an instructor and began his flying lessons. Within six months, Alan was a private pilot.
He married Deedra whom he met during his residency and they settled in Staunton, VA where he has built a thriving dental practice and raised two boys.
Along the way he bought a 1972 Beech Sundowner that he painted in the University of Tennessee's orange and white colors. "That aircraft is known as BOB for 'Big Orange Bird'," he says. He has flown it all over the country and into grass strips wherever he could. He sold an antique truck and bought a 1946 Taylorcraft for tailwheel flying in order to enjoy more recreational airfields.
"I am looking forward to working to expand the RAF's role in Virginia and visit even more recreational strips in my Taylorcraft," he says.
540-294-2374
awhite@theraf.org