California State Liaison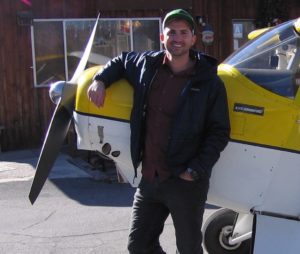 Anthony has lived and worked all over the world but "I've finally returned home to Southern California for good," he says.
He originally got into aviation to provide missionary and humanitarian services in some of the poorest countries of the world. Anthony has worked as a pilot and mechanic for Mission Aviation Fellowship, Samaritan's Purse, and other organizations throughout Africa, Central America, Indonesia and the U.S.
Once it was discovered he was crazy enough to fly and maintain aircraft and eat local food in some of the least desirable tourist spots of the world, he received his security clearance and started contracting in the Middle East — a very "hot" field at the time! Things really got slippery from there and landed him in the brand new niche of the large UAV helicopter test pilot world where he flew for Boeing and SAAB. While at SAAB, living in Sweden, he became test/demo pilot in their military and Intelligence, Surveillance Reconnaissance contracts.
After dragging his suitcase through the sands of Iraq, the seas of Somalia, and the snows of Scandinavia, he decided all good and foreign things must end, and is now back home, piloting a private business jet around the country for Delta Airlines. When he's not kayaking, climbing, or river rafting, he lives on a rustic and western equestrian/airpark community behind San Diego. He and his buddy, Co-California RAF Liaison Rick Lach are working to bring SoCal backcountry to the attention of the recreational aviation world. They organize backcountry fly-in's and campouts. They just finished building a gorgeous new airstrip in the southern High Sierras on a private ranch.
"If you're ever out west pard'ner, holler and we'll saddle up some horsepower," he says, eager to share these projects, some future dreams, and his passion for the area.
"The real reason I joined the RAF is because it's an organization that will help me do what I'm already doing, better!"
949-312-8782
alongobardo@theraf.org