Georgia State Liaison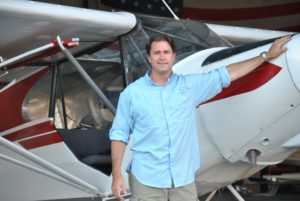 Brett is a Georgia native, and although school and a job overseas took him away for many years he always hoped he'd return to his roots. As luck would have it an opportunity working in finance for a major airline brought him back to the state about 15 years ago, and he's been here ever since.
While Brett didn't grow up in an aviation family, from an early age he had a passion for flying.
As a young teenager he spent weekends pumping gas and sweeping floors at a small local airfield in exchange for flight lessons, and soloed on his sixteenth birthday with his check ride following nearly a year later to the day. He begged, borrowed, and stole (well, maybe not stole) anything with wings to build time in those early years of flying.
Nearly 30 years later Brett has owned several aircraft, many of which he built or rebuilt himself, with the pride of the fleet being a 1947 PA-12 with all the Alaska mods. His two kids are both interested in aviation, with his 14-year old daughter about to start glider lessons, and his 10-year old son flying every chance he gets and helping to build and maintain the family airplanes. Brett's wife has also gotten the bug and found her niche doing fabric covering. And she's perfectly happy taking staycations at home while Brett and the kids take the Supercruiser camping in south Georgia several times a year.
Brett is a long-standing member of EAA and AOPA, as well as serving on the county airport authority at his home field. And ever since taking the PA-12 on a nine-state tour of the Rockies last year, he's looked for a way to get more involved in promoting backcountry and recreational flying. He is excited about the opportunities that exist within the state, and looking forward to working with Georgia state liaison, Eric Davis and together furthering the mission of the RAF in Georgia.
404-502-0873
bwilkes@theraf.org