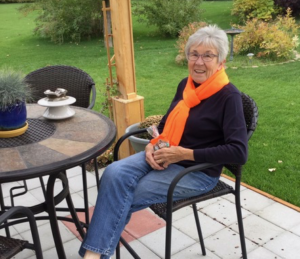 Carol (aka Pinky) and I have been together for 20 years and one constant in her life has been her willingness to help others. Whether it is animals in need, people in need, or organizations in need, she will bend over backwards to lend a hand. My love of aviation has brought her into contact with a number of groups that have benefited from her. Ten years ago we joined our local EAA chapter and at that time they had a need for a newsletter editor. Without hesitating, she volunteered and single handedly created a newsletter second to none for the chapter.
Next, she brought to my attention a group called Pilots and Paws. This nationwide group helps rescue animals in shelters that might otherwise be put down. With this group, she encouraged me to fly these animals and she has helped out by transporting cats and dogs by car when their transportation to a safe facility by air wasn't available (we have flown and driven at the same time, to the same location, and had a lunch date too!!).
When she was employed at the INL (Idaho National laboratory), she volunteered for the employees association and led numerous hikes which were a big hit for the employees and their families.
Her connection to The RAF was totally by chance. I had heard from a friend in the spring of 2011 that there was to be a backcountry flyin to a strip in northern Montana called Ryan's Field. We were told we could camp and on Friday night there would be a steak dinner for all that showed up. The deal was that we had to join an organization new to us, RAF.
We looked at pictures of the locale and decided to fly up there and check things out. The flight up was uneventful except for some rain showers between Seeley Lake and Ryan's Field with an exciting landing at Ryan's. Once on the ground, numerous RAF members came over to greet us and made us feel extremely welcome.
Soon Pinky was telling me that she liked this new found group and was wondering what she could do to help them out. A few weeks before departing on a three week vacation to Hawaii, Tricia asked Pinky if she would mind joining Team RAF and help with some "thank you note" letter writing. Without a moment's hesitation, she agreed. So now every morning over her first cup of coffee and the latest email from Tricia she is out on the veranda thanking many of the new and/or current members for contributions to RAF. It truly is ALL of RAF's members that make RAF the powerful group it has become and she is happy to be a part of it.
by Tom Strong