Wyoming State Liaison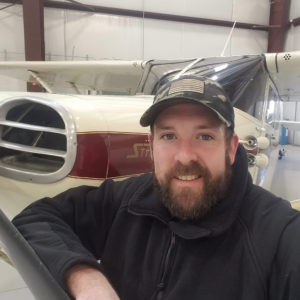 Chris McAtee grew up around aviation in Wyoming. He served in the Air National Guard from 2003-2009, working on C-130 engines and propellers. He is an A&P/IA and an EAA tech counselor and currently serves as Director of Maintenance for a Part 135 operation based in central Wyoming.
After flying sporadically since the age of 18, circumstances were finally right in October of 2018 and he earned his private pilot license in his newly purchased 1947 Stinson 108-2. Chris plans to pursue his instrument, commercial, and CFI ratings.
Chris is the proud father of two amazing kids, daughter Penny and son Kelly, both of whom love flying and hanging out at the airport with Dad.
307-277-1597
cmcatee@theraf.org