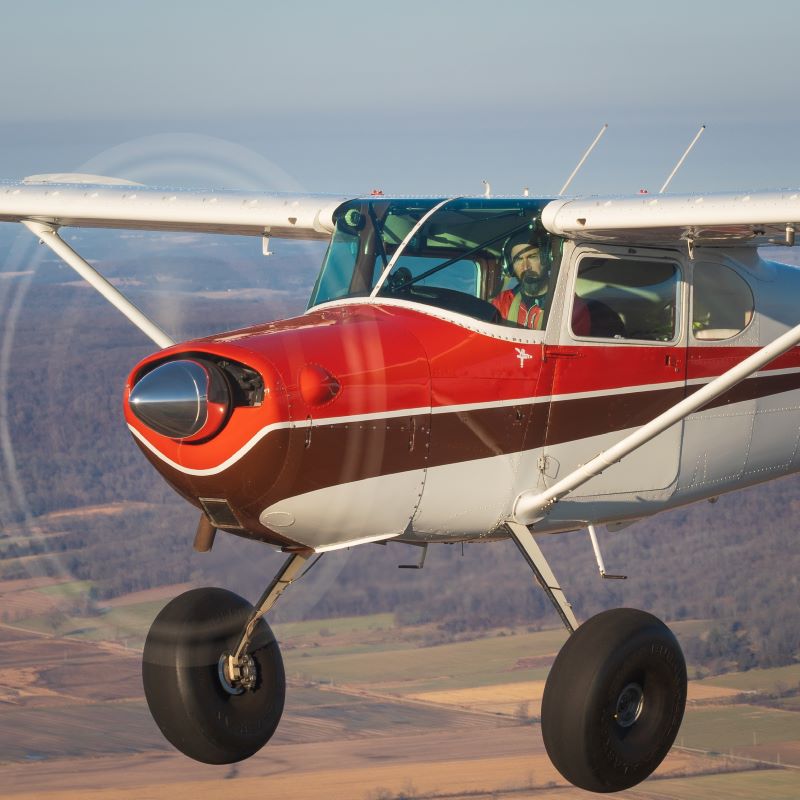 Jim was one of those kids who was fascinated with flight from the start. Living in Wisconsin, he went to Oshkosh regularly. He worked at the FBO as line kid, and set his goal to become an aeronautical engineer. At Purdue University he discovered the subject required a painful level of math, so he switched to Biology. Preferring animal care to quadrangles, he finished at University of Wisconsin School of Veterinary Medicine as did Molly, the coed who became his wife.
"I knew I would always learn to fly," he says. "My Uncle Herb was a crop farmer in upstate New York. We visited nearly every summer, and he gave me my first ride in his retractable 182."
In his thirties, Jim bought his Cessna 170. "I didn't know anything about taildraggers, backcountry flying or bush wheels," he said. Before Jim could replace its enormous tires with a more conventional set, Joe McDonough introduced him to the many turf airstrips within just a few miles of Middleton where Jim hangars his airplane. "I then experienced the joy of that kind of flying," he says. "We enjoy the RAF-supported airstrips near us, like Cornucopia and North Fox Island," he added. Now he's part of a group of Wisconsin pilots who fly out West together, exploring Montana, Idaho, and Utah's backcountry. He's rigged a way to load his mountain bike and fit in all his camping supplies.
"I'm in love with Arkansas! It's a beautiful place, and the people are wonderful," he says. "Trigger Gap, Sugar Creek, Ponca . . . Just this Fall, I took a long weekend there for flying, biking, and camping. The crew was just finishing up the Trigger Gap pavilion, and the weather was perfect."
The RAF initiative to facilitate access to private airfields resonated with Jim, as so much of his region is private land, and he is careful not to abuse the privilege of landing on private property. He appreciates the RAF's efforts to clarify landowner protection.
"At SuperCub.org's New Holstein Fly-In, Jeff Russell convinced me to try the STOL demo among a bunch of SuperCubs. My landings were terrible," he admitted, but he kept practicing. He became acquainted with Valdez STOL legend Frank Knapp. "Frank and his wife Kris invited me to fly the STOL demo at OshKosh in 2018 and 2019. Then they asked me to help run the STOL competition, so I acted as coordinator for the AirVenture STOL demo in 2021." When asked about the growing popularity of STOL events, he replied, "It's a good training tool. It teaches you things you need to fly in the backcountry – you are just doing it in a different situation. You have to be very disciplined and precise." Regarding some of the recent controversy over STOL competition events, he replied, "Lots of young people look to us as role models. We need to be responsible and ensure our events promote proficiency and safe flying skills."
Photography is another of Jim's skills. He is a repeat winner in the RAF photo contests. He enjoys trying to get that perfect aerial shot. "Fortunately, I fly with a bunch of guys that are happy to fly in circles for awhile," he says.
Jim and Molly are both veterinarians, and partner to operate their clinic in Oregon, Wisconsin. They have three daughters. In addition to his love of animals, and being a "science-based person", this seems to be a perfect vocation for Jim. And his love of flying provides just enough "aeronautical engineering."
Submitted on December 16, 2021.