Missouri State Liaison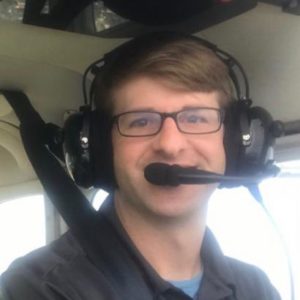 When Dustin started flight training in the summer of 2017, his father immediately asked, "Why are we not plane shopping?"
Dustin quickly acted on this question and he and his father now co-own a Cessna 172D based at Perryville Regional Airport (KPCD). Dustin earned his Private, and his father is working on his pilot's license in their 172.
Born and raised in rural southeast Missouri, Dustin now lives in St. Louis with his wife and daughter. Dustin flies regularly and is considering options for upgrading and IFR training, all while he works his day job for the Anheuser-Busch Brewery, and attends the Saint Louis University College of Law where he is a 2021 Juris Doctorate candidate.
Although Dustin is relatively new to aviation, he has been passionate about outdoor recreation for as long as he can remember. He enjoys Missouri's recreational activities including backpacking, hunting, camping and paddling. During flight training Dustin searched for remote recreational airfields in Missouri but was disappointed they were rare to nonexistent. The search did however lead him to the Recreational Aviation Foundation.
Dustin's first fly-in camping trip was with his brother to RAF's Trigger Gap in Arkansas. This trip displayed firsthand the value of — and need for — the RAF's work. As an RAF Missouri State Liaison, he looks forward to living the RAF's mission to preserve, maintain, and create recreational aviation opportunity in his state.
573-587-2969
dwelker@theraf.org