RAF STORE FEATURES INREACH® MINI + RAF GEAR PACK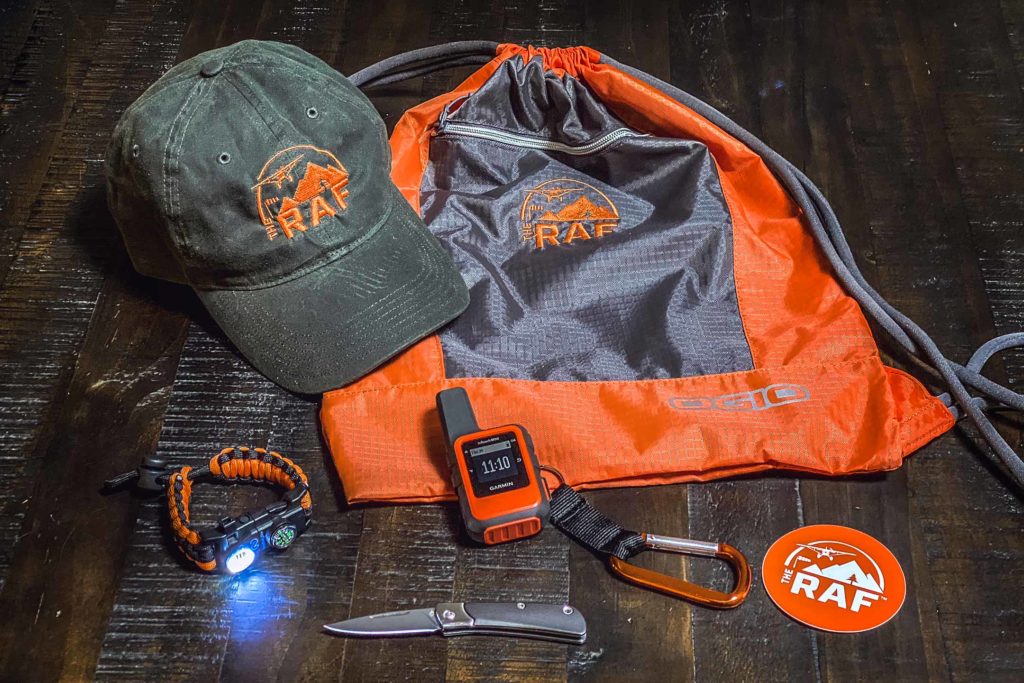 We are pleased to announce that the RAF Online Store is up and running! On the RAF homepage— theraf.org —click the "Store" link on the top navigation bar to view our current product, the inReach® Mini + RAF Gear Pack. In early 2020, we will add more products to the store, while also continuing to offer special monthly promotions through our Backcountry Boutique. We look forward to offering more products of interest to RAF members and friends.
Working with Garmin®, Iridium® and many other partners of the RAF, we have assembled a unique collection of essential backcountry, preparedness and emergency gear in the inReach® Mini + RAF Gear Pack – required equipment for all RAF aviators!

As an RAF member, you get the inReach® Mini + RAF Gear Pack for the special RAF member price of $349, which includes taxes and shipping in the U.S. So for the price of the inReach® Mini alone – you get the inReach® Mini and all the extra essential gear, all while benefiting The RAF. For all the details, please visit a special page on the RAF website by clicking here. Also, Garmin is offering an inReach® Mini subscription promotion. If you activate your device now, you'll receive your first month of service free. See below for details.*
Whether a gift for your favorite pilot, family member or friend, or best of all for yourself, visit the RAF Online Store to order your inReach® Mini + RAF Gear Pack. If you have any questions or need assistance, please contact Tricia (tmckenna@theraf.org) or Erin (ewhite@theraf.org).
Most important, be prepared and be 'in reach' from now on with the RAF!

Please note:
This offer is unique to RAF members.
For pricing outside the U.S., please contact Erin or Tricia.
Please allow two weeks for delivery.
*IMPORTANT OFFER DETAILS
Your promotional code will arrive in the mail with your inReach® Mini + RAF Gear Pack. The promotion code is only valid for new activations of the inReach Mini device purchased as part of the RAF Gear Pack.
Activate your new inReach Mini device using the promotion code any time from January 1, 2020, through June 30, 2020, and you will not be charged a monthly satellite subscription plan fee for the first full month of service after your activation. Suspending your active subscription plan during the promotional period will not extend the offer beyond one month.
Offer is valid for new or existing inReach customers with accounts in good standing.
Offer not valid for customers with a billing address in any country where the inReach device is not available for purchase or use. Offer is also not valid for Pivotel or Roadpost customers.
This offer does not apply to plan changes on active accounts, including upgrading, downgrading or changing from suspended service. This offer cannot be combined with any other offer. No cash value.
Your selected subscription plan will renew automatically at the end of its term unless you make changes to your account prior to its renewal date. At the end of the free 1-month period, you are responsible for all charges resulting from renewal, overages or alternate subscription purchases. Offer does not apply to annual program fees or one-time activation fees, which must be paid upon activation. Offer also does not apply to overage charges or monthly suspend fees, when applicable.
NOTICE: Some jurisdictions regulate or prohibit the use of satellite communications devices. It is the responsibility of the user to know and follow all applicable laws in the jurisdictions where the device is intended to be used. To access the Iridium® satellite network for live tracking and messaging, including SOS capabilities, an active satellite subscription is required.
Visit explore.garmin.com to activate your device. Contact GarminServicesBilling@garmin.com with questions.
Submitted on December 24, 2019