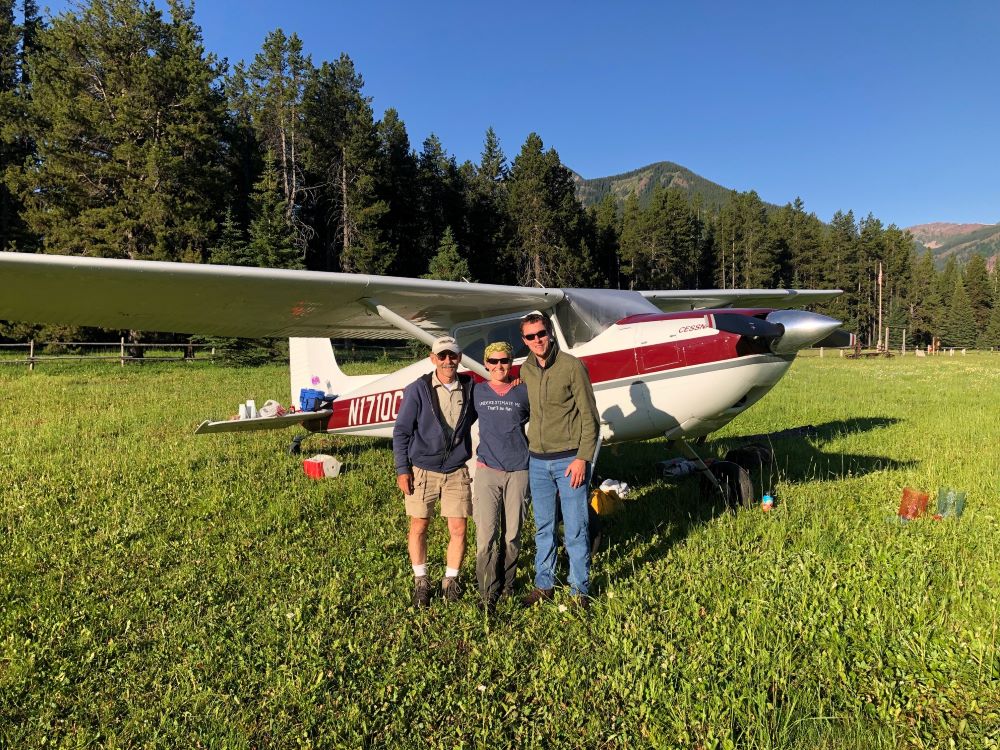 Pete cut his teeth on light metal fabrication in the business his father started in northern Virginia 50 years ago. They moved it to the central Montana town of Lewistown 32 years ago, and are now a substantial employer, with over 40 employees in the town of 6,000 folks. Called "HCR" (for Horizontal Curvilinear Re-circulator), their innovations have resulted in sales of fog, frost and ice free Air Doors for customers all over the world. "If you've been to the Dairy or Produce section of a Costco or a Sam's Club you've probably seen our product," Pete says. On one business trip to China, he took his daughter Rosie who was studying Business in college at the time. "We were treated to a 14-course meal, including soup with the the rooster's head floating in it, complete with [comb and wattle]."
Pete began flying in 1975, just out of high school, in Frederick, Maryland (home of AOPA), then got his A&P through an Associate of Science program at Frederick Community College. While working, he earned his SEL and MEL certificates, and earned his Inspection Authorization (IA) certificate. He then attended the University of Maryland for his degree in Aerospace Engineering. For three years, he worked as a civilian engineer at Pax River, home of the Naval Air Test Center, working in rotary wing flight testing for U.S. Marines.
"Since then, I've always, flown, owned, and worked on airplanes," he says, "enjoying it now as a hobby." While in AP school, he rebuilt a 1946 7AC Champ, and still has it. Of his three children, his daughter Rebecca was the one who was most thrilled to learn to fly. "Rebecca learned to fly the Champ as soon as she could reach the rudder pedals," Pete explains. "I'd sit in back and let her fly." When she soloed, Pete says he was standing on the turf strip near a badger hole. "I was more worried about the badger coming up and meeting harm, than I was about Rebecca's ability to land safely." She moved on to their C180, and is now commercially licensed to fly UAVs for her employer, the Bureau of Land Management (BLM).
Pete has taken on another aviation challenge, having bought into a North American T-28 "Trojan" with a partner. "We'd like to offer rides to Vietnam War veterans, since the T-28 played a role in Laos during the War," Pete explains. U.S. pilots taught Laotians to fly them for attacks on the Ho Chi Minh Trail. "We hope to add a Bird Dog (tandem Cessna 170 observation aircraft) for rides as well, as a tribute to their service." He is anticipating traveling to Texas to get his type-rating in the T-28. Some consider the T-28 the most complex trainer the military ever had. "There are three different ways just to open the canopy," Pete says. It could handle up to one ton of weaponry under each wing. With its 1,425 hp nine-cylinder radial, he'll need to be ready with a lot of right rudder.
Pete's been involved with the RAF from the beginning. His family has always enjoyed flying into the backcountry to camp, so it was a natural fit for him to get involved. Pete serves the RAF as Liaison to the BLM, overseers of many public access airstrips in the West. As past president of Montana Pilots Association, he has organized work parties and flyouts throughout Montana's backcountry. "I have a good location in the center of the state," he says.
He has generously donated time and material designing and fabricating handy logo key fobs, pancake turners and bottle openers, to laser cut RAF fire rings and sturdy "bear boxes," refrigerator-freezer-sized containers for food storage, strong enough to keep the grizzlies out. His son Matthew inherited an eye for design and is working in high-end architecture. Matthew designed the commemorative P-38 floor inlays honoring Ben Ryan that impress visitors inside the Ryan Barn.
Pete says he devotes his time because he supports the RAF commitment to keeping backcountry airstrips "open and alive, and the interesting people you meet by being involved in the RAF."
Submitted on March 15, 2023.