STAY CONNECTED TO THOSE WHO MATTER MOST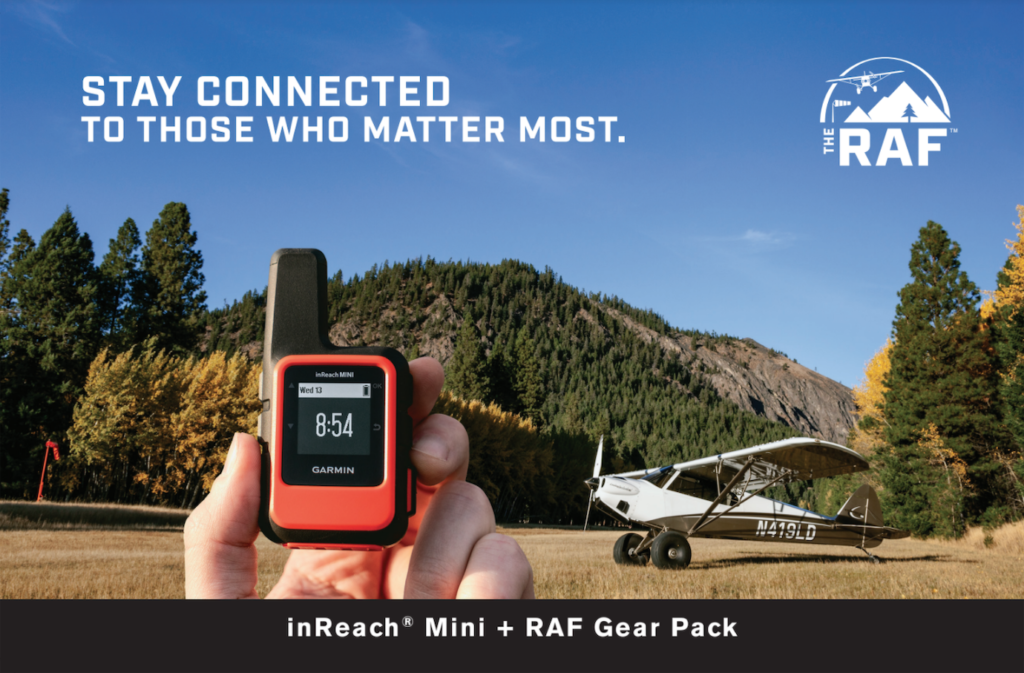 We hope that you are navigating these uncertain times safely and looking forward to bluer skies and tailwinds soon.

As we all think about getting back in the cockpit, safety is top-of-mind. For those of us who fly the 'backcountry', it's more than a place – it describes a style of flying we enjoy. With the variety of landscapes we access with our airplanes, care must be taken and sound judgement must be exercised. The trademark of airmanship and flight safety is preparedness and being ready for the most challenging and unexpected environment, incident or accident.

Hopefully you recognize the postcard above that you received from The RAF recently. If you have already taken advantage of this special offer through The RAF Outfitter, our online store, we thank you. Required equipment for all RAF or backcountry pilots, we are proud to offer the inReach® Mini + RAF Gear Pack in partnership with Garmin.

The inReach® Mini + RAF Gear Pack includes:
The inReach® Mini by Garmin, providing global two-way communication and SOS capabilities
First month satellite subscription free, exclusively for RAF members
Limited-edition, Richardson waxed-canvas 'RAF' cap, with RAF embroidered logo and made exclusively for the RAF Gear Pack
Gerber 'Wingtip' pocket folding knife, drop point blade and limited lifetime warranty
Paracord survival bracelet with integrated compass and whistle
Ogio lightweight carry bag made from tech-weave fabric, heavy-duty shoulder cords, and external pocket with RAF embroidered logo
Only RAF members can get an inReach® Mini by Garmin and all the essential gear above for the price of the inReach® Mini alone…. all while supporting The RAF and adding to your on-board emergency kit.

To learn all the details and to purchase your inReach® Mini by Garmin + RAF Gear Pack, visit our newly-named online store, 'The RAF Outfitter', at theRAF.org
Fly safely, and thank you for your support!
Submitted on April 28, 2020