Tennessee State Liaison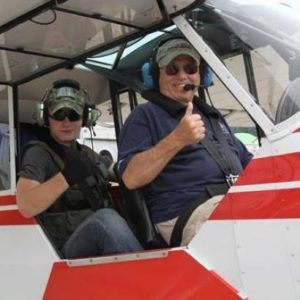 Steve was born and raised in northeast Tennessee. He graduated from East Tennessee State University in 1971. Having commissioned a 2nd Lieutenant through ROTC, he went on active duty in the U.S. Army in the early 1970s. His first civilian job was as a flight instructor at Tri-Cities airport, (KTRI) which eventually led to a 30-year career in corporate aviation, including dairy product transport pilot, among other interesting jobs.
As an EMS Bell 407 helicopter pilot, Steve's missions often take him across state lines and through mountainous, rugged terrain. In just twelve minutes, he can reach an emergency site that would have taken an hour by ground. "Response time is so important. If we can get on the ground, get the patient loaded and to the hospital for treatment with angioplasty or clot-busting drugs, we can save a life," Steve said.
Buying a Super Cub ten years ago opened the door to back-country flying. Steve enjoys flying with friends he met at the SuperCub.org Fly-In in New Holstein, WI. In 2014 he took his 17-year-old grandson and their adventures included landing on sand bars in the Wisconsin River and in a field at a dairy farm.
Steve has also organized Super Cub fly-in's at 0A9 for five years. He enjoys the flying, the camaraderie and meeting friends new and old. "It amazes me how much we have in common and how we all get to know each other. Aviation is the common thread."
"I enjoy promoting the RAF mission and introducing people to recreational flying opportunities in Tennessee," he says. "I'm blessed, in that I'm doing all I ever wanted to do: fly."
423-647-2511
slewis@theraf.org