VOLUNTEERS PREPARE RYAN FIELD FOR SEASON AND UPCOMING FLY-IN
The June 15 weekend brought beautiful weather and 21 volunteers to Ryan Field to help RAF co-founder and past director Chuck Jarecki complete spring maintenance. The annual work party takes place ahead of the RAF Fly-In scheduled for the last weekend each June at Ryan Field, (2MT1) near West Glacier.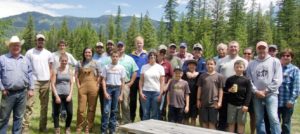 RAF Pennsylvania Liaison Andy Turner flew in with his two sons and Jason Steffen flew in from Bonner's Ferry with his two sons. The four lads took up axes, and "the firewood that the Turner and Steffen boys split up should last three years," Chuck said.
The runway, camping, vehicle parking and tie-down areas were mowed, and Mike Hines mowed Ryan Loop Trail. The group sanded and re-stained the picnic tables. Chuck sprayed the field and vicinity for weeds. Plumbing repairs and replacing a sander required two trips to the hardware store, 20 miles away.
RAF Chairman John McKenna flew in with sandwich fixings, fruit, beverages, brownies, and Penny Jarecki sent her delicious homemade chocolate chip cookies.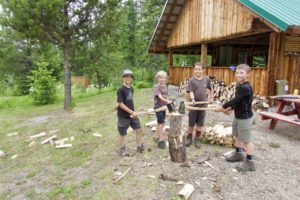 In addition to the Ryan Field shelter with running water and wood cookstove, amenities include bear-proof food storage boxes, a privy and shower house for your solar shower bag, and a courtesy car available on a free-will donation basis.
The RAF thanks each of the volunteers for giving their Saturday to the effort to make Ryan Field such an appealing recreational destination. A special thank you goes out to Chuck Jarecki for all of his care and work at Ryan Field. We hope you all join us for some relaxation the weekend of June 28-30 for the annual Fly-In.