CUSTER-GALLATIN CALL TO ACTION
Your help is needed! Custer-Gallatin National Forest has released its Draft plan. The public comment period ends Thursday, June 6, 2019.
This Forest encompasses more than three million acres in SW Montana and South Dakota. There are six mountain ranges within the Forest complex.
Montana Liaison Ron Normandeau says this Draft "portrays a prejudice against airstrips and aircraft access." We need to provide positive input advocating airstrips before the comment deadline on June 6.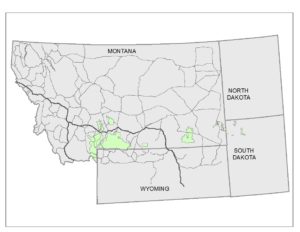 Ron has excerpted the following relevant language regarding Airfields. Please refer to it before commenting:
2.4.12 Airfields, Aircraft Landing Strips (AIRFIELDS)
Introduction
The Custer Gallatin National Forest does not manage any public or administrative airfields as part of the transportation system. The forest owns taxiways and tarmacs at the West Yellowstone Airport in support of the smokejumper and air tanker base. No public sites have been designated or authorized on the Custer Gallatin National Forest.
Desired conditions under general recreation apply to public recreational motorized aircraft landing strips.
Standards (FW-STD-AIRFIELDS)
01 Public recreational motorized aircraft landing and take-off shall only be allowed at designated and authorized sites.
02 Any new landing and take-off locations shall be constructed, maintained, and operated by the holder of a special use authorization.
Suitability (FW-SUIT-AIRFIELDS)
01 Backcountry aircraft landing strips are not suitable in designated wilderness, the Hyalite Porcupine Buffalo Horn Wilderness Study Area, the Cabin Creek Recreation Wildlife Management Area, National Natural Landmarks, the Wild Horse Territory, research natural areas, special areas, recommended wilderness areas, within ¼ mile each side of eligible wild rivers, within ½ mile each side of the Continental Divide Trail, riparian management zones, areas of primitive or semi-primitive nonmotorized recreation opportunity spectrum, or within the grizzly bear recovery zone. Backcountry aircraft landing strips are suitable in areas of rural, roaded natural and semi-primitive motorized recreation opportunity spectrum, outside of the designated areas listed in the preceding sentence.
Alternative D: Backcountry aircraft landing strips are not suitable anywhere on the Custer Gallatin National Forest.
Talking points to use in your comments.
1. Airstrip section portrays a forest prejudice against aircraft access.
2. Airfields Desired conditions under general recreation does not provide adequate guidance to future planners for the establishment of forest access by aircraft.
3. Desired conditions do not meet Planning Directives standards for presentation of the plan component; Desired Condition.
Excerpt from Plan Directive:
Desired conditions must be described in terms that are specific enough to allow progress toward their achievement to be determined, but do not include completion dates. (36 CFR 219.7(e)(1)(i)) Forest Service Handbook FS1909.12, Chapter 20, Sec 22.11 page 22
4. The airfields section does not address the five plan components: Desired Condition, Objectives, Standards, guidelines, and suitability. The directives require all five components to define an activity.
5. Excerpt from Plan Directive:
Plans must include the following plan components (36 CFR 219.7): desired conditions (sec. 22.11), objectives (sec. 22.12), standards (sec. 22.13), guidelines (sec. 22.14), and suitability of lands (sec. 22.15). Goals may be included as an optional plan component (sec. 22.16). Forest Service Handbook FS1909.12, Chapter 20, Sec 22.1 page 20
6. Under Suitability the list of areas "unsuitable for aircraft landing strips" is unsupported by law accept for designated wilderness and research natural areas.
7. Draft Environmental Impact Statement does not present any data on aircraft operations impact on the environment.
It's easy to comment —Here's how:
• Online at: https://tinyurl.com/caracgnf
• Email to cgplanrevision@fs.fed.us. Use Subject line "Comment – draft plan – CGNF"
By Mail to Custer Gallatin National Forest, Attn: Forest Plan Revision Team, P.O. Box 130, (10 E Babcock), Bozeman, MT 59771
The RAF has participated respectfully in previous Forest Plans with success. Please take a moment to comment. Your voice matters!
Submitted on May 28, 2019