Pennsylvania State Liaison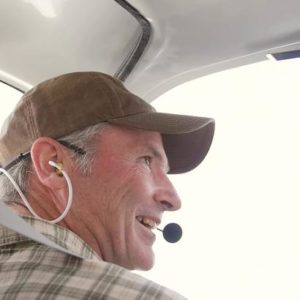 Andy Turner was introduced to aviation at a young age, buckled in the rear seat of his parents' TriPacer. Always interested in outdoor pursuits, he earned a Ph.D. in Environmental Science from Michigan State University, and now lives in Clarion, Pennsylvania, where he works as a professor of Biology and Geosciences at Clarion University. His research is in aquatic ecology and he teaches courses in Fisheries Biology, Limnology, Biostatistics, and Environmental Issues.
A 30+ year pilot, he has logged over 3,000 hours. Much of his flying involves exploring new landscapes by air and finding out-of-the-way airstrips to camp and access remote areas. Summer flights may take the family to the backcountry of Montana and Idaho; winter vacations take them to the coastal Carolinas, Georgia and Florida.
Andy recently built an RV-10 to better fly his family across the country. His wife Sharon is an astronomer on the faculty at Clarion, and together they are the proud parents of twins Joshua and Caleb. The boys share the family enthusiasm for the outdoors, having completed a number of long hikes, including summits of the two highest peaks in the Rocky Mountains at only nine years old.
"I'm excited to have the opportunity to combine my two greatest passions, the outdoors and flying, by working with the RAF," Andy said.
814-538-9646
aturner@theraf.org