North Dakota State Liaison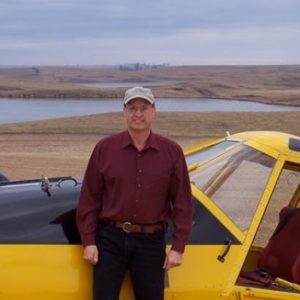 Brian is the first to admit that he's a "flatlander". "I do recognize that the world is round and not every place is as flat as North Dakota." Actually, his portion of North Dakota – Prairie Coteau (French for "pot holes") – is quite rugged with rolling hills. Brian and his wife Elly consider the Utah backcountry their favorite flying vacation spot. "The first time we visited the area, we rode our bicycles from the Canyonlands airport into Moab and back, UffDa!!" (Scandinavian for "bad idea") The Utah area fits their limited flying opportunity well, as the strips are usually open and temperatures moderate in the late fall and early spring when they are not busy farming and flying as aerial applicators. (FAA for "crop dusters") Brian is currently involved with the National Agricultural Aviation Association, which uses up most of his vacations.
Some consider aerial application as not being environmentally friendly. Brian says, "the truth is that high production agriculture, of which aerial application is an important part, is very good for the environment. High production agriculture allows food to be grown without as much fossil fuel use and with less land, which allows more land to remain for people and wildlife." Brian's knowledge and experience brings an important aspect of conservation to the RAF.
As in backcountry flying, agricultural flying is about how much weight you put in the airplane for the conditions at the time. "What's different is that most of us flying into the backcountry don't have the luxury of excessive power or turbine engines. If I get lazy with my 182 going into a backcountry strip, I am in big trouble," Brian says.
Brian's entry into backcountry flying was mostly self taught, lots of reading, talking to others and practicing short field landings and takeoffs, followed by very cautious trips into some of the less demanding strips before moving on to more difficult strips. "I believe that I achieved my experience safely, but in retrospect I could have saved myself a lot of time by hiring an instructor who knew the area well," Brian says, adding, "the UBCPA has a list of instructors willing to help."
Some may not consider caution characteristic of an Ag Pilot. "You will find that those who have flown ag for 30 years are the most cautious of all, as they have seen what the wrong attitude does to pilots and aircraft. One of my mentors told me as a young pilot, ' There are two things in life everyone must learn. First there is a God, and second, you are not Him.' "
Brian concludes, "I hope to meet all of you sometime in the backcountry".
701-486-3414
brau@theraf.org