Ohio State Liaison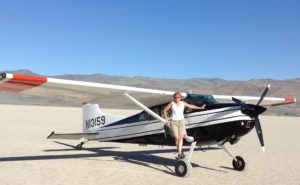 During a career in classical music spanning over twenty-five years, Christine Mortine turned from conducting and playing instruments to flying them. She is now a full-time flight instructor, having spent the past ten years obtaining her CFI, CFII, MEI, Cirrus Training Center Instructor, as well as SIC in the Citation 500.
Christine cut her teeth on crosswind landings in Laramie, did the high altitude airfields hop in central CO, regularly flies to North Carolina's Ocracoke Island, (W95) to visit her baker daughter (Graceful Bakery), and is always searching out new airfields and their people. When not flying her C185 in the mountains or giving tailwheel endorsements in a C140, she loves to flight instruct and is a Designated Pilot Examiner.
Christine has spent her life backpacking, hiking and kayaking. She was born in Minnesota, spent her summers camping in Colorado and lived in Alaska for seven years. She and her family take only "adventure" holidays, much to the astonishment of her children (those children are now adults making the same choices!).
Combining her love of the outdoors with general aviation is "what I've been waiting for all my life," she says, cherishing her ability to be a pilot, and now, an advocate for the RAF mission.
She also volunteers with FAASTeam, Ninety-Nines, Professional Pilots Association, Angel Flights, EAA, and the Columbus Symphony Orchestra and WOSU Public Media TV/Radio.
"I've been involved with many not-for-profit organizations," Christine says, "and am truly impressed with the professionalism, dedication, safety, and mission of RAF – Exciting!" she adds.
614-205-3129
cmortine@theraf.org