Graphic Design Volunteer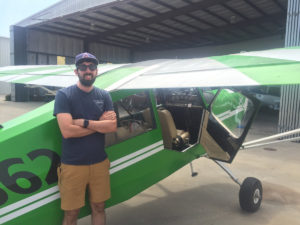 Cody Wellons has had a lifelong interest in aviation, although he didn't actually start flying until 2014 after being inspired while taking a scenic floatplane flight while visiting Alaska. Since then, he has obtained his private pilot certificate and a few endorsements (tailwheel, high performance and complex), and is slowly working toward his instrument rating and commercial certificate. He enjoys anything related to backcountry flying and has managed to fit in a few fun training flights while traveling around the country, including some floatplane time in Florida, Montana, and Maine.
Cody has been working in the graphic design world for over 15 years and currently leads a design team at an Atlanta agency. He has also handled design of a national automotive magazine, worked as part of an in-house team for a major engineering firm, and done freelance design work for a variety of clients. In addition to aviation and design, he has a wide range of hobbies including photography, mountain biking, hiking, playing guitar and banjo, kayaking, and traveling the world with his wife.