Connecticut State Liaison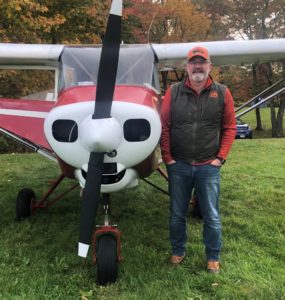 RAF Connecticut Liaison Drew Lyons was born and raised near Boston, always dreaming of being an airline pilot, but "life eventually had different plans," he said. After serving in the US Army 82nd Airborne Division and finishing college, Drew finally achieved his dream of becoming a pilot, earning his PPL-ASEL in 1996 and flying when possible for the next couple of years.  Life again had different plans and he stopped flying in 1999.
Drew settled in Connecticut in 2000, and in June 2018, he took to the skies again and says, "It all came back very quickly, especially the love for all things aviation!"  During the summer of 2018, he made his first fly-in camping trip to Parlin Field (2B3) in New Hampshire. Drew says, "It cemented the realization that recreational aircraft use is amazing," leading him to discover the RAF and immediately volunteer.
Working in construction consulting, Drew flies as often as he can and recently purchased his first aircraft, a 1955 Piper Tri-Pacer. He looks forward to using it to continue exploring fun airstrips and camping with it.
Drew has rolled up his sleeves to work with the RAF's other state liaisons in New England and the Northeast to "grow our presence and help fulfill our mission of preserving, and ultimately increasing, recreational aviation access throughout the region," he said.
860-305-4163
dlyons@theraf.org