Rhode Island and Massachusetts State Liaison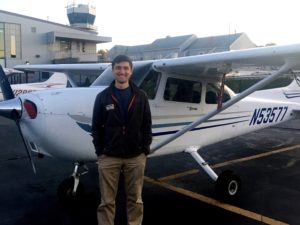 Gabriel completed the majority of his flight training in the mountains of western Montana. An avid hiker and camper, he admired the pilots flying into Idaho's Bitterroot Wilderness and looked forward to joining them once he gained enough experience. One of his favorite strips in the region is Benchmark, just outside the Bob Marshall Wilderness in Montana.
In 2017, Gabriel moved to the Providence area and earned his CFI certificate. He finally made the career change to a full-time pilot and now flies for the airlines. Though he doesn't own his own airplane yet, he's working hard at saving up for one. If you ask him what type he's interested in, his answer may change every week, but "it's always a tailwheel!"
"I fly for fun because I find it to be the most freeing thing I'm capable of doing, and because it's the quickest way to get some space from urban living," he adds.
As the new Rhode Island and Massachusetts Liaison, Gabriel is excited to help the RAF grow and maintain airfields, and to keep general aviation thriving in New England. "The idea of combining my love of flying, my passion for the outdoors, and my desire to give back to the community seems perfect to me," he says.
Gabriel currently lives in Providence, RI with his girlfriend and his dog.
gjaszczack@theraf.org
(701) 570-2617