PLEASANT VALLEY BACKCOUNTRY FLY-IN, ARIZONA
Apr 26, 2019 3:00PM—Apr 28, 2019 9:00AM
Location
Pleasant Valley Airstrip, Young, Arizona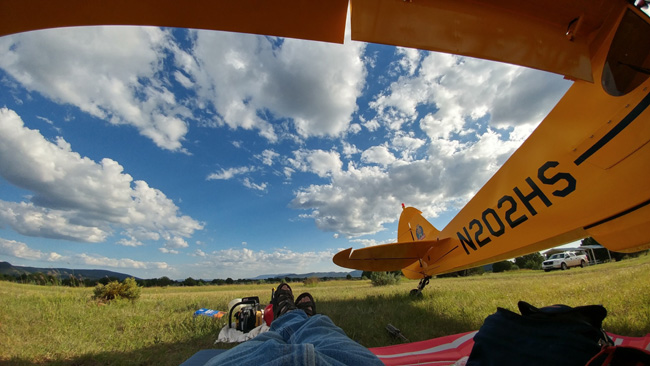 Join fellow pilots and their families in the cool pines of Young Arizona at (24AZ), AKA Pleasant Valley. The airstrip is 3400′ graded dirt, and accommodates most GA aircraft. There is some minor rutting at the east end, past the windsock. Young and Pleasant Valley provide very special and beautiful surroundings. The locals help provide ground transportation to and from town for the many activities available in Historic Young, meals and hotel stays.
Come enjoy camping the pine country with a BBQ Lunch on Saturday. Bring your favorite Dutch Oven and recipe for dinner on Saturday evening!
For transportation to Young from the airstrip, call Vern and Kathy (928-462-3510)
As always, please check weather for your trip, and make the your decision to fly on your skill level, equipment, and conditions along the route and destination. Spring winds can be hazardous in the backcountry!
Weekend Schedule:
Friday 3:00 to 7:00 arrivals begin. Dinner in town, transportation leaves airport at 5:30PM
Saturday arrivals all morning. Breakfast in town, transportation leaves at 8:30AM
Lunch, bring your own or transportation is provided to Bruzzi's Vineyard or the Pleasing Palate at 12PM
Dutch oven cook off starts at 4:00PM (Don't forget your charcoal!)
Entertainment by local musician, Barry Dilly, starts at 7:00PM
Sunday, most folks depart by 9am, but you are welcome to stay as long as you like!
Please let us know if you plan on attending one of the meals in town so we can be prepared for transportation needs: mspencer@azpilots.org
Please visit the Arizona Pilots Association website for more information, including the Pilot Safety Pamphlet and hotel information.