Director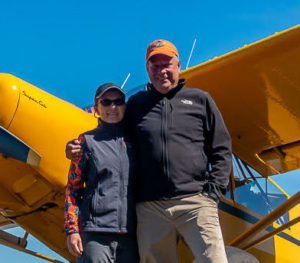 A lifelong resident of Wisconsin, Jeff Russell grew up in Sheboygan and now resides near Madison, WI. He flies a SuperCub and Cirrus out of the Morey airport in Middleton.
Young Jeff was exposed to general aviation while flying with is dad in their Cherokee 235.  It wasn't until 1998 that circumstances allowed Jeff to take flight lessons and become a pilot himself.
After a long career in manufacturing, Jeff now spends his time volunteering for the RAF and flying his SuperCub around the lower 48, Canada, and Alaska on either Bushwheels, floats, or skis.  His favorite destinations include northern Wisconsin, Idaho and Montana backcountry, and Alaska.
When not aviating, Jeff enjoys fly fishing, sailboat racing, and bicycling. His girlfriend of 34 years, Rhonda, enjoys their flights into the backcountry and is presently a student pilot.
608-347-2441
jrussell@theraf.org