Wisconsin State Liaison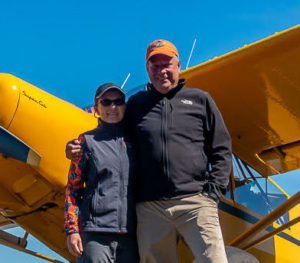 A lifelong resident of Wisconsin, Jeff Russell grew up in Sheboygan and now resides near Madison, WI. He flies a SuperCub and Cirrus out of the Morey airport in Middleton. "The SuperCub rotates between Bushwheels, skis, and floats and spends at least two weeks a year in the backcountry of Montana and Idaho," he says, adding, "I look forward to working with the RAF on its mission to promote recreational aviation in Wisconsin."
Young Jeff was exposed to general aviation while flying with is dad in their Cherokee 235.  It wasn't until 1998 that circumstances allowed Jeff to take flight lessons and become a pilot himself.
Jeff is the president of Fisher Barton Blades, an American-made lawn mower blade manufacturer with plants in Wisconsin and South Carolina.
When not aviating, Jeff enjoys fly fishing, sailboat racing, and bicycling. His girlfriend of 29 years, Rhonda, enjoys their flights into the backcountry and has an interest in learning to fly as well.
To share his passion for aviation, Jeff gives numerous talks about his adventures to Hudson Bay on floats and to the backcountry airstrips of the west.
"We're thrilled to add Jeff and his enthusiasm to our group of dedicated volunteers," RAF president John McKenna said.
608-347-2441
jrussell@theraf.org