Chairman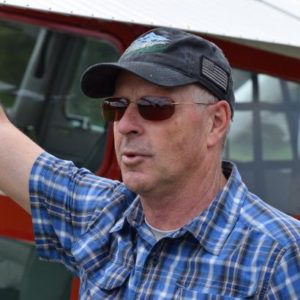 Aloft above the Mining City of Butte, a kid seeing the grandeur of Montana's Rockies for the first time is destined to become passionate about aviation. Those early flights in a neighbor's Bonanza motivated young John McKenna to obtain his private pilot license at the age of 16.
For forty years, he's rarely traveled any other way, accumulating over five thousand hours, many in his Cessna 185. An IFR rating is attached to his ticket, but looking out the window at the mountainous west is John's favorite method of navigation.
A series of airplanes have served the McKenna family pleasure trips as well as John's New York Life Insurance practice that has spanned 37 years. John's wife Trish also flies and enjoys her Cub. They have three children who consider the airplane the family station wagon-it's just "how you get there."
The McKenna's have enjoyed living in Bozeman since 1972, where a person can own their own airstrip in Big Sky Country and truly live the aviation dream. John and Trish characterize the backcountry pilot-they will pass on the fancy lunch, pressed slacks and shined shoes at the country club for the backcountry with tent, sleeping bags, well-worn hiking boots and a few groceries… and the dog.
John's family also characterizes the spirit of volunteerism. In addition to serving long hours for no monetary reward as chairman of the Recreational Aviation Foundation, John and his family are passionate supporters of Special Olympics. His involvement with that organization provided relevant background for the formation of the RAF. It was this match of this passion for aviation-and his inability to wait for someone else to do it-that provided the momentum to form the RAF.
With a full tank of energy John looks forward to seeing where this flight will take him.
"It is the best journey I've experienced so far," John says.
406-581-8234
jmckenna@theraf.org