Georgia State Liaison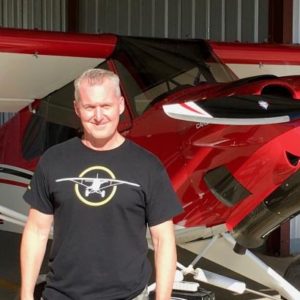 "I pretty much grew up in the cockpit," Kevin Barry says. "My father was a fighter pilot turned test pilot, and my favorite birthday present every year was to sit in the cockpit of whatever fighter aircraft Dad was flying at the time."
Kevin chose the United States Military Academy at West Point over the Air Force and served as a Cavalry Officer, but his passion for flying never left him. During the Gulf War — Operations Desert Shield and Desert Storm — he worked closely with military aviation assets. After leaving active duty he obtained an MS in Mechanical Engineering from Georgia Tech, a PhD from the University of Florida, "and most importantly, gainful employment, so I quickly got back into flying again," he says, and "I was fortunate enough to find a job that incorporated my love of flying."
Since 2004 he has served as a Research Scientist and Technical Director for the Army, and flies his Cessna 172 to military bases across the country. Having added a 180HP engine, tuned exhaust, and tip tanks, Kevin has taken it from Canada to the Bahamas Out Islands; as far west as California, and many places in between.
Building a Carbon Cub FX-2 with his father ignited his love for backcountry flying. "I first discovered the RAF through using Airfield.Guide to find backcountry airfields to visit," he said.
An avid outdoorsman, Kevin enjoys hunting, fishing, mountain biking, hiking, SCUBA diving and is a member of EAA and AOPA. He sees his new responsibility as State Liaison as the perfect opportunity to combine his passion for the outdoors with his passion for flying.
601-630-6914
kbarry@theraf.org