Treasurer and Secretary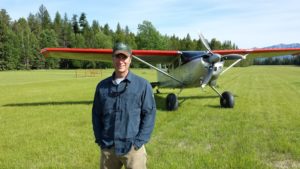 Mike was born and raised in New Hampshire (hometown is North Conway), where his interest in aviation began early. His grandfather (Transport Pilot's License #3926) started flying in 1913 after building his first airplane. Later he became a barnstormer where he met Mike's grandmother Freda. Deciding it was time to settle down, they moved to North Conway in 1930 to start an airport (http://www.airfields-freeman.com/NH/Airfields_NH.htm#whitemountain) and a family. The airport remained until 1988, but was forced to close under pressure of a growing town and taxes. Mike spent summers at the airport doing odd jobs and flying with his cousin in gliders and various aircraft. In the 70s White Mountain Airport was a destination for tourists desiring scenic flights over the White Mountains of NH in classic WACO biplanes.
After a tour in the Air Force as a weapons loader and some character building experiences after that, Mike attended Purdue University where he earned a degree in Computer Technology (CPT) in 1996. He met his wife Lynn while attending. In 1997 the couple moved out to Colorado and started Data Network Group (http://www.dngnet.com), a company specializing in Information Technology support services for businesses. They never strayed too far from aviation. Both were avid skydivers, jumping from all kinds of aircraft including Beech 18s, DC3s, 182s, 206s, Queen Airs, King Airs, Casas, Sky Vans, 727s, Connies, Balloons, Jet Rangers and Bell 412s to name a few. It wasn't until 1999 that Lynn surprised Mike with a discovery flight at the local airport. Within 60 days he obtained his private pilot's license. Two weeks later he had a tail wheel endorsement and soon realized "there were really only conventional geared airplanes." By the spring of 2000 he had flown about 100 hours in Citabrias and decided it was time to be an owner. With five hours in an early model 180 he was on his way to pick up a "new" 1976 180 in Canada. Since then he has flown about 2,500 hours, most of it in his current 1979 F model 185. During this time, Lynn obtained her private pilot and instrument ratings as well as a pristine 1954 PA-18 SuperCub. Mike and Lynn spend part of their time in Colorado on a small ranch where they have a private airstrip and horses and the rest of it in Bigfork, MT where they have closer access to the backcountry.
406-333-1167
mperkins@theraf.org