Former Senator Carmine Mowbray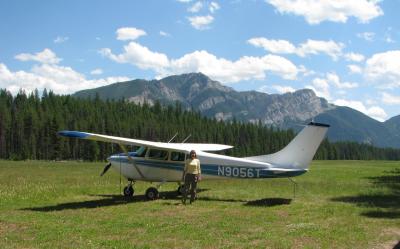 RAF Featured Member Carmine Mowbray
If there was ever an individual who epitomizes volunteerism for the Recreational Aviation Foundation, it is Carmine Mowbray, from Polson, Montana. She has volunteered her time to publish the RAF Newsletter, sent out press releases and RAF Briefs, worked on the pilot shelter at Ryan Field, swung a Pulaski cutting sage brush at a Missouri Breaks airstrip and staffed the RAF booth at trade shows.
Carmine is a native of western Washington, moving to Montana in 1973. She and her husband became involved in the printing business, starting small and growing to a regional printing plant serving much of western Montana, along with a small chain of award-winning weekly newspapers. For nearly two decades they flew a Turbo Lance to manage their six locations around Montana. At the same time they were raising four very lively children, all of whom have gone on to Montana Universities. They sold the publishing enterprise to a larger chain in 2000. At that time the Mowbray's company employed 50 people.
Not one to be idle, Carmine has pursued many interests. She has served on a local bank advisory board for five years and taught motorcycle safety for ten years. She now serves on the local Polson hospital board, the Flathead Lakers board (a regional water quality advocacy organization), is active in the community summer theater, produced an award winning radio show for Montana Public Radio, has written her first historical novel for younger readers, and does portrait art work. To top this all off, she has just finished her first term in the Montana Senate where, she says, "It's a real honor and very stimulating to be surrounded with 49 type-A workaholics who love to argue. "
Carmine now owns an older model Cessna 182 equipped with a three blade prop and a Sportsman STOL. "I can reach some outstanding places with this plane. By supporting the RAF we can all work together to maintain the destinations we all are privileged to use. " Carmine says, "I would give up lattes, the beauty shop and even shoes to keep on flying. "
If you are out in the backcountry and see Carmine with her blue and white Cessna 182, stop for a minute and tell her thanks for all she does for the RAF.