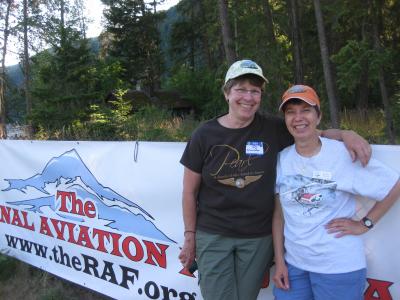 The RAF can't say enough about Jo Schumacher and all she does for the organization.
"Jo works her fanny off at Sullivan Lake, Sun 'n Fun and other events, helping "man" the booths, cooking for RAF crews, cleaning, and organizing," says RAF's Tricia McKenna. "She is just a great cheerleader, supporter, and hard worker.  And just loads of fun!"
Jo's volunteer work at the RAF follows a career of 21 years in the United States Air Force and Air National Guard that included duties as a heavy equipment operator, airplane crew chief, and mechanic on KC-135 tankers worldwide, including Saudi Arabia and Egypt prior to and during Desert Storm.
She is one of the lucky ones who can call two beautiful places home: growing up on the beaches in Southern California and in the White Mountains of New Hampshire. After getting off USAF active duty, she joined the Air National Guard and in her spare time, obtained her AA degree in Botany.
Jo's love for aviation began when she was on active duty with the USAF and got a ride in the right seat of an O-2 (Cessna 337).  She went on to obtain her private license. Over the years she's logged 350 some hours, mostly in Cessna's.
When she's not involved in all things "air," Jo spends her time gardening, quilting, camping, and hiking. She also enjoys photography and art.
We love Jo and appreciate all she does for the organization.