Vermont State Liaison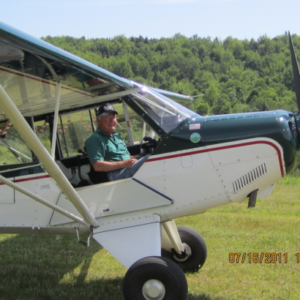 What began as frequent 12 mile bicycle rides to a local Vermont airport in the early 1950's quickly evolved into a full-fledged airport rat manifestation.
Along the way, peripheral excursions have included: retired international corporate executive (F-10 company), former Air Force officer, pilot, stints as Highway Engineer, logger, Operations Director for a large New England FBO, aerial surveying, Museum Aviation Curator and other fruitful stops.
Currently living and managing a forest and wildlife area in Northern Vermont (aka the "Dog Patch"), much current personal time and treasure is expended in pursuits of Masters Alpine Ski Racing, technical mountain biking, mountain climbing, rowing, golf, Chairman of Town Council and perhaps most importantly, the discovery of interesting places for "walking the dog", (an Aviat Husky A-1B with over 10 years of field trials experience). As a matter of policy, we always remain available for random mischief, with frequent presence at back country strips and "non-strips" in New England, the Adirondacks and Quebec. Grass, gravel, ice, snow and taildraggers would indeed appear to be a verifiable natural law.
While equally comfortable in black tie or grease stained coveralls, the hands remain calloused.
802-888-3409
rburley@theraf.org