Oregon State Liaison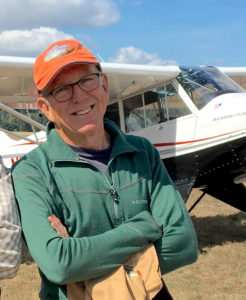 Richard grew up in Texas and earned his private pilot's certificate at age 18. After completing a couple of engineering degrees in California, Richard decided – without much forethought– that his future lay in Alaska. Earning his commercial, instrument, MEL and SEL ratings, he flew to remote locations throughout the state for ten years.
In the mid-1980s Richard was offered a 12-month employment contract with an engineering firm in Taiwan. This overseas adventure eventually lasted almost 30 years, with opportunities for Richard and his wife Sarah to live and work in many locations in Asia, the Middle East, Australia and New Zealand.
Richard and Sarah returned to the US is 2013 and settled in Oregon to look for new adventures. Both are pleased to be back in the General Aviation community. They particularly enjoy backcountry flying and exploring the American West by air. Richard is excited by the opportunities presented by the RAF and continues to be humbled by the willingness of RAF members to contribute their time, money and resources to the success of our mission.
916-220-2041
rmayes@theraf.org