New Mexico State Liaison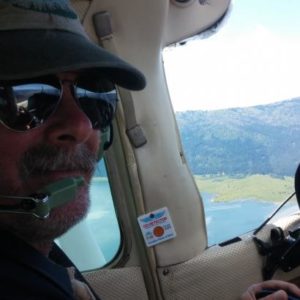 Toward the end of the Vietnam War in 1975, Ron Keller was stationed in Albuquerque and has lived in New Mexico ever since. His first ride in a GA aircraft was with an Air Force co-worker. His interest in aviation began from a maintenance perspective, until he married his wife, Mary Ann, whose father was a CFII that ignited Ron's interest in flying.
Ron learned to fly through an Air Force aero club, and in 1984 at the age of 27, he earned his private certificate. In 1994 he bought his first airplane, a 1955 Cessna 170B. "For me, it was like learning to fly all over again," he said, "but with my father-in-law instructing, I got the hang of it."
"I really enjoyed this new freedom to operate on unimproved runways," he says. In 1998, the family outgrew the 170, so they reluctantly sold it and bought their current airplane, a Cessna 182. With a STOL kit, 3-bladed prop, and optional bigger tires, "it's a decent backcountry airplane," Ron says.
Ron has been involved with the New Mexico Airstrip Network (NMAN) since its beginning. He belongs to RAF, NMPA, USPA, IAA, AOPA, and EAA. He retired from his FAA career in electronics and had served as the Aviation Safety and Education Administrator for New Mexico Aviation Division.
Ron joins RAF New Mexico Ambassador Larry Filener, bringing his relevant experience to the RAF at an ideal time to further the goals of the NMAN.
505-681-5982
rkeller@theraf.org