Montana State Liaison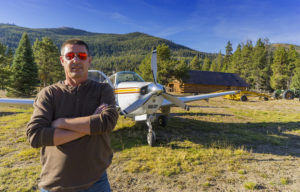 For 25 years, pilots flying into Montana's Logan International Airport in Billings probably heard Scott Newpower in the tower. He decided on an ATC career in Hudson, WI, during college when he saw an ad in the local newspaper to become an FAA air traffic controller. After four years in the tower in Grand Forks, ND, he transferred to Billings. Originally from St. Paul, MN, he planned to stay in Billings only a few years and move on, but grew to love Montana and decided to stay in Big Sky Country.
Scott learned to fly in 1996 and he and his wife Mary began exploring the backcountry with their Cessna 182. He regularly volunteers on airstrip work parties, and one day working at Schafer Meadows, a pilot landed in a Beech Bonanza. Scott noticed the "For Sale" sign in it. Within the hour, he decided to sell his 182 and buy the Bonanza. More than ten years and many mods later, the Bonanza has taken Scott and Mary to every backcountry strip they ever visited in the 182.
Along the way, Scott joined the board of directors of the Montana Pilots Assoc, serving as President from 2013-2016, and winning well-deserved "Pilot of the Year" honors in 2016. He is a long-time RAF supporter.
Scott retired from the FAA and Billings tower in May 2014. He and Mary built a hangar home at the Seeley Lake airport (23S), about 30 miles northeast of Missoula. The beautiful turf airstrip is owned by Montana Aeronautics and Scott volunteers with his airport neighbors to help keep it maintained. Scott brings a wealth of experience and energy to the RAF in his "retirement."
406-670-3169
snewpower@theraf.org