Administrative Director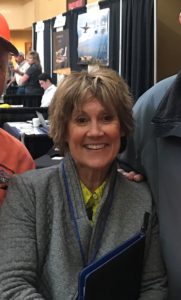 Spending her childhood outdoors with family in the mountains surrounding Butte, Montana, Tricia learned all there was to know about setting up a tent, cooking over a campfire and enjoying sharing stories around the fire under the night sky. Aviation was not something she spent much time thinking about. Along came boyfriend John, who became husband John, who introduced her to small airplanes. It was not love at first sight when it came to aviation and it took some time to overcome Tricia's fear of flying. To get over that hesitation, Tricia took instruction in the family Cessna 185. Her fear subsided quickly and learning all there was to know kicked in. As they say "The rest is history."  
Tricia now owns and flies a 1988 Super Cub, and she and John enjoy accessing the backcountry in their C-185 together, throughout the country. She is passionate about the outdoors and enjoys mountain biking, hiking, skiing and just about anything you can do under Montana's Big Sky.
Tricia has always had that volunteer spirit which led her to Special Olympics; serving on the Montana Board as well as chairing the North American board of directors. In her spare time she also serves as the Chair of the Montana Aeronautics Board of Directors.
It is the passionate volunteers that keep driving her interest in the RAF, Tricia says. "The people and places I've met through the RAF family fuel my desire to help further the mission."
Anyone who's met Tricia knows that John, her three children, a handful of dogs, and her desire to get all life has to offer keep this lady on the move.
406-570-5398
tmckenna@theraf.org