92-YEAR-OLD AIRSTRIP IN IDAHO GETS IMPROVEMENTS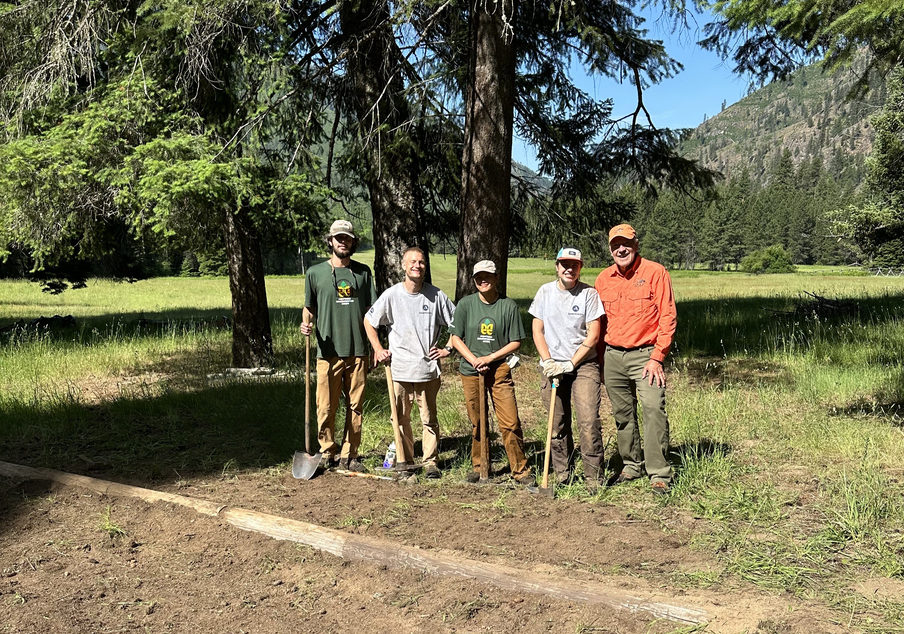 Moose Creek Ranger Station is one of the oldest in the USFS at 102 this year. The short runway (04/24) at the Ranger Station turns 92 this year. The runways were created with heavy equipment brought in piece by piece and reassembled, but once the Wilderness Act was signed in 1964, mechanized equipment was no longer allowed. The last known grading of either of the airstrips at Moose Creek was around 1958 when the long runway (01/19) was completed. Neither of the runways has had significant work done since – a testament to how well they were designed and constructed but also a witness to the low impact of aircraft on the landscape. After 60+ years, they are showing some wear – primarily due to water erosion.
Because the Wilderness Act restricts mechanized tools, everything now must be done with hand tools or by a mule team pulling 19th century equipment. Three years ago, the RAF began assembling a plan with the Forest Service to do some needed maintenance on both runways. Using rural airstrip funding, the RAF began the effort this June, by hiring a Montana Conservation Corps (MCC) trail crew (funded by AmeriCorps) to help move dirt onto the low areas of both runways and create water diversions to prevent erosion. Just in time, Daher offered to help with the project by donating the use of one of their Kodiaks, and, as a result, equipment donated by Dave Normandeau of Thompson Falls, MT, (along with Dan and Pete Normandeau), and a runway crew were moved into Moose Creek in two days rather than weeks by other means. Over two days, the MCC crew along with RAF volunteers, moved 54 loads of soil from the tree line to the centerline of both airstrips, a water bar was installed at the head of runway 24, and a new windsock was installed at the other end. Pilot reports have since noted these improvements. The RAF isn't done – but we have taken a big step forward. Next comes some heavier work with a mule team and dirt moving equipment.
This is a great example of how the RAF operates. The spirit of volunteerism is recognized by others who then join in to help make a project a reality. It all starts, though, with our volunteers who commit hours of time to make these projects a success:
Sparky Parker – RAF Idaho State Liaison
Steve Johnson – RAF Idaho Ambassador
Larry Taylor – RAF Idaho Supporter and former Chairman of Idaho Aviation Foundation
Ed Kronfuss – RAF Montana Supporter
Dave Irvin ( IAA District 7 Director)
Dave, Dan and Pete Normandeau, who donated dirt moving tools for the mule team.
Our volunteer Kodiak Pilots who put in hours of flying tools and teams
Steve Taylor – RAF Director
Robert Miller – RAF Supporter and Ryan Field volunteer
Special thanks to Paul Carelli – Kodiak COO who made the Kodiak donation fly
and Nicolas Chabert – CEO of Daher for the inspiration to donate the Kodiak
And of course, our partners at the USFS – Carol Hennessey, Ron Tipton, Brandon Anderson, Willy Acton, Brad Bence, Chad Pickens, and Pete Armichardy
By RAF President Bill McGlynn
Submitted on June 29, 2023.