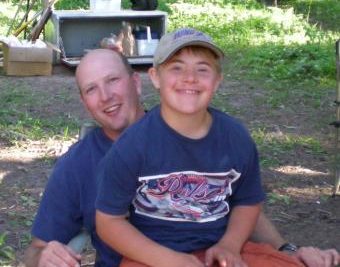 I've been flying throughout MT with my father since my earliest memories as a child and have been flying throughout the state and elsewhere since I was 17. Like all aviator fathers, I search out opportunities to share that passion with my kids. This weekend for me posed the most fortunate opportunity to collage an experience and set of memories, I believe, that not even the grips of something like Alzheimer's could steal.
I'd been planning on attending the MT Schafer Meadow work session since early spring, and the initial plan was that only I would be able to attend. In the early a.m on the departure date my oldest son, 11 years old, was getting quite stirred that I was going camping and was persistently indicating he wanted to come too. He began packing a bag and before I knew it was in the truck on his way to go airplane camping with his father in Schafer Meadow.
Schafer Meadow, Great Bear Wilderness, Bob Marshall Complex, MT
Now to preface: My oldest son was born with Down Syndrome and has never liked airplanes. We had attempted endless times since he was a wee little boy just to get him to sit in an airplane let alone fly in one. We took him on a trip to Idaho three years ago and it led to having to land in McCall and getting a hotel room as he was terrified by flying in slight turbulence. Needless to say this was the first time he had willingly been near or flown in an airplane since.
Dothan prepares for Departure
This trip was a new beginning for Dothan. He was excited to open the hangar door, load the airplane, and he even independently jumped into the passenger seat and said "LETS GO DAD". Heck, I was so amazed that I forgot to check the baggage door and had to stop on the ramp to close it. When in route to Schafer we once again encountered some slight turbulence and Dothan proceeded to look over at me and said "ITS ALRIGHT DAD", wow!! In the eleven years with our son I wouldn't trade any of them and this was surely one of those joyful moments that brought a tear to your eye.
We proceeded to land at Schafer 25 minutes after taking off from Polson and had a wonderful time as told by Dothan in his own utterances; "Airplanes, Piling Wood, Hikes, Cabins, Cookies, River, Treasure (a dug-out fire pit), Sleeping Bag, Tent, Soup(Jambalaya), Ice Cream". He had a wonderful time with all there and wanted to thank everybody for making it so much fun. He was so excited to come home and tell our family and friends of his adventure.
Overall the trip was a blazing good time and a sensational success. Even though it wasn't a trip of a memorable take-off or landing(all could have been better) it was a trip that will never be forgotten as it was an opportunity to see our son who continues to work on overcoming tall obstacles knock a big one down. Taking to flying again and experiencing the wilderness MT has to offer. It would have never happened if it was not for that stirring of interest for camping in the wilderness to enable him to overcome his own personal barriers with flying.
Note: "Keep Them Accessible and Open" I want to emphasize to everybody to support their state aviation associations, thru membership and work parties, as well as the RAF and national organizations such as AOPA. Our son most likely would never have the chance to experience the wilderness if it were not for the access granted by these airstrips. So assist these groups and organizations in their continued work to "Keep Them Accessible and Open".
by Will Stene