Minnesota State Liaison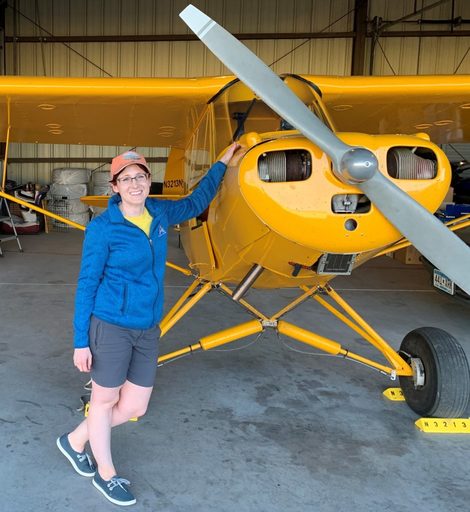 Amy says "I adopted my aviation family through volunteering with various organizations," and she has stepped up from her RAF Ambassador position to fulfill Liaison duties in Minnesota. "I look forward to learning the ropes from the great team of RAF volunteers," Amy added.

Her passion for aviation began in high school when she began volunteering as a photographer for EAA during Airventure at Oshkosh. Thanks to an EAA scholarship, she earned her private pilot certificate a week after graduating high school. "I learned to fly in a Cub and the hook was set," she says.

During college, Amy interned for Dakota Cub Aircraft, a high-performance Cub parts manufacturer and rebuilder. Amy then joined the team at Wipaire, the world's leading manufacturer of aircraft floats. She led the marketing team for several years and moved into float and aircraft sales, where, "I'm paid to talk about airplanes during the work day, in addition to doing so for free in my spare time."

She now owns a 1946 Piper Cub with what she calls "an identity crisis" – born a J3, converted to a PA-11, now with some PA-18 modifications. It spends most of its time on wheels, but also has floats and skis to handle the variety of upper Midwest conditions.

In addition to Amy's involvement in EAA, she has experience with the General Aviation Manufacturers Association, the Minnesota Business Aviation Association, South St. Paul Airport Advisory Commission, and Fleming Field Aviation Association. "I'm most proud of helping to establish the Leah Jones 'Herd o' Turtles' flight training scholarship through the Sentimental Journey Fly-In," she says.
Submitted on December 17, 2021.