ANNUAL "OUT WEST" RAF RYAN FIELD WEEKEND
The RAF Annual Ryan Field Weekend on June 28-30 will again feature an Out West theme. Fly or drive in and join us at the beautiful airstrip near West Glacier, Montana, 2MT1.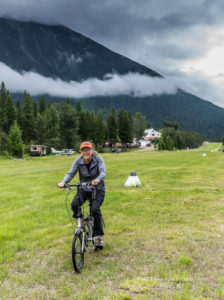 We've reserved restauranteur Mike Lindemer and his food truck for Friday and Saturday dinner. If you attended the Seeley Lake Fly-in immediately after the AOPA event in Missoula last year, you'll remember Mike's fabulous steak sandwiches with all the fixin's. Saturday dinner is a loaded taco bar. Dinners are $15 per person. Kids eat free. There will also be local brews available for purchase.
The RAF will host a rustic breakfast buffet on Saturday morning.
The RAF General Store will be open for business all weekend, full of stylish new logo wear. Swan Mountain Outfitters will have a string of saddle horses available Saturday morning for trail rides. Enjoy an hour-long ride into the beautiful Flathead National Forest with the official Glacier Park outfitter for $40. A cash tip for your wrangler is encouraged.
We've made it easy for you — Cash, check or credit cards gladly accepted for meals, RAF General Store and trail rides.
Kids are welcome – we have activities planned just for them! (For everyone's safety, children and pets MUST be under control at all times.)
So pack your ridin' boots and join us for some Western fun!
Registration opens May 1 so we can get numbers for food planning. See the RAF Event calendar.
If you plan to fly in, you must obtain and receive acknowledgement of the Ryan Field Safety Briefing.
Photos by Michael Hines
Submitted on May 28, 2019