ARIZONA'S GRAPEVINE OPENS, X REMOVED FROM CHART
Another success in keeping with the RAF mission happened as the new Phoenix FAA sectional shows no X through the Grapevine Airstrip symbol. It's taken nearly five years of collaboration between the RAF, Arizona Pilots' Association (APA) and the US Forest Service – including the signing of the national MOU between the RAF and the USFS – to remove the X that had been there for twenty years. The new identifier 88AZ appears on the chart for this Arizona airstrip located close to Lake Roosevelt.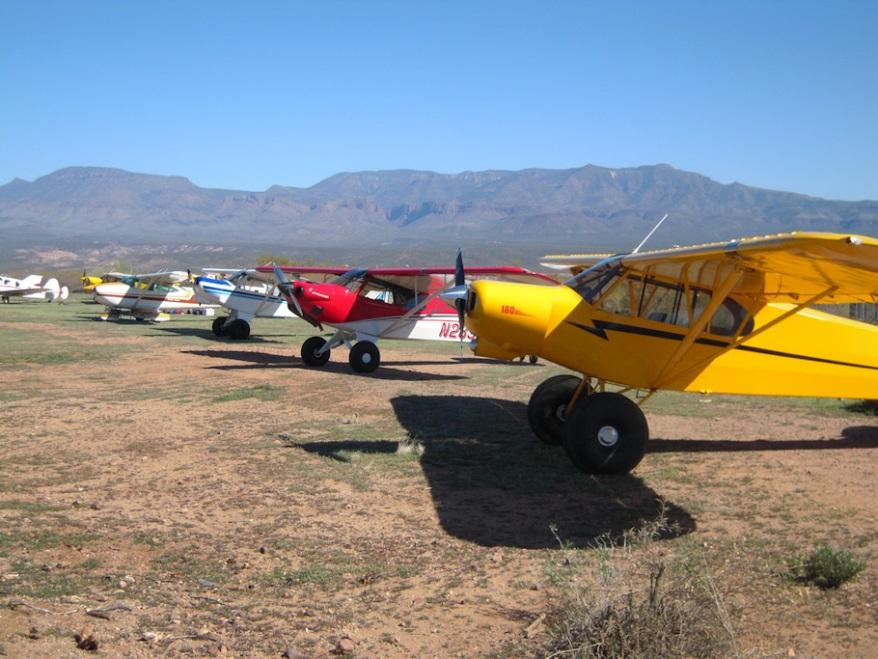 Hundreds of volunteers gave their time, monetary contributions, sweat and even blood, (everything has thorns in the Sonoran Desert) to make this happen. Grapevine is an example of what can be accomplished through partnering, and is a great example when working with other land managers. The RAF thanks USFS District Ranger Kelly Jardine for his support, and his trust in the aviation community.
While designated as private, access is open to the public; with no commercial operations, no training, nor automobile access. As a symbol of cooperation between the aviation community and the USFS, the mutual expectation is for visitors to respect the Forest Service's vision for the site. Please know and obey fire restrictions, and practice Leave no Trace ethics. There are limited campsites along the eastern side of the airstrip and midfield on the west. Please do not clear new areas. Always hand pull your aircraft off the airstrip as far from the runway edge as practical. Be courteous to other campers, and keep safety in the forefront of every visit to Grapevine.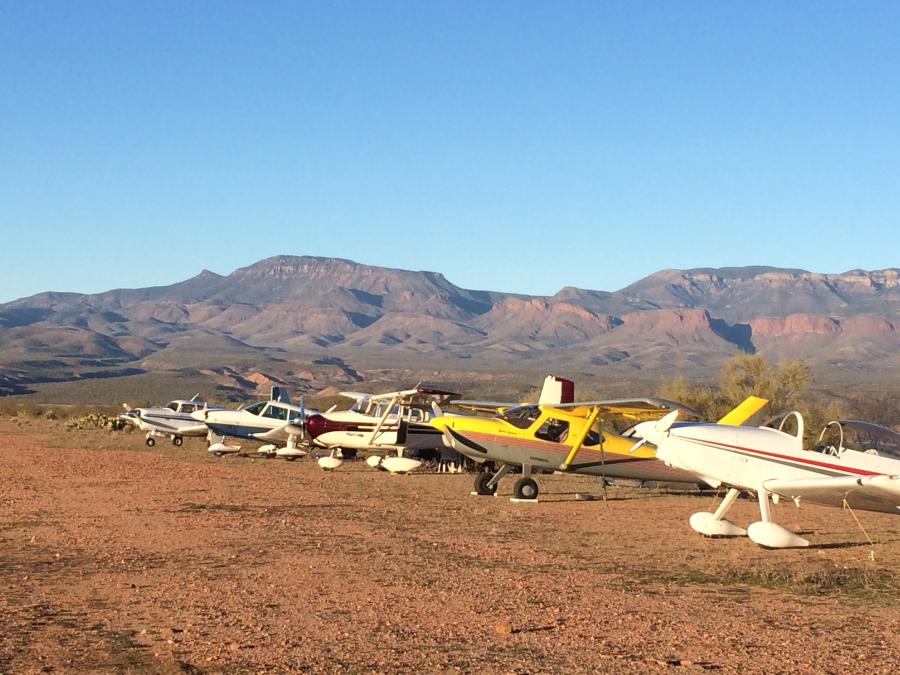 The final Spring 2017 weekend campout celebrated this great news with 29 aircraft and dozens of pilots, friends and families showing up to enjoy the Sonoran desert beauty and meals prepared by volunteers Kit Murphy and Brad Lawrence.
Due to the limited campsites, and to provide usage information for the USFS, the APA has set up a special email address to help coordinate the limited camp spots. Please email grapevine@azpilots.org with your questions, your tail number and desired dates. APA can neither give permission, nor limit access, but can give you an idea if sites are open during your planned stay. The port-a-john remains on site from September through May, and we will continue our third weekend camp outs and lunch on Saturday during those months.
Before visiting Grapevine, please review APA's safety brief and know your and your aircraft's limitations. As pilot in command, you are responsible for your and your passengers' safety.
Submitted On May 25, 2017.