Ben William Ryan passed away peacefully July 26 at the Montana Veteran's Home in Columbia Falls with his loving wife Agnes, "Butchie" and friends at his side.
Ben began life March 21, 1923 in Belleflower, CA, the son of Ben and Mary Ryan. Ben had an older sister, T. Antoinette. His family moved to Three Forks, Montana, in 1931.
In 1932 Ben was introduced to airplanes, a relationship that would last his lifetime. Two Lockheeds landed near town. The pilot boosted young Ben up on his shoulder to retrieve the mail from the baggage compartment.
Ben entered Stanford University in 1941 to study geology. His keen interest in petroleum engineering took him all the way to Alaska's North Slope where he would eventually take part in the discovery of its world-changing oil field.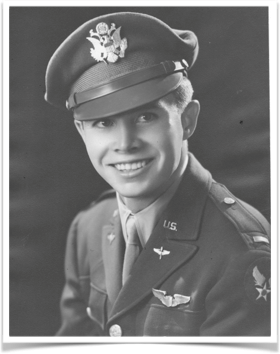 On the Friday following the Pearl Harbor attack, Ben enlisted in the Army Reserve as an aviation cadet, and went active duty in May, 1943. The Army flew in his mother – then a PFC in the Women's Army Corps – to pin on his wings, a total surprise to the young aviator. Ben joined the 32nd Fighter Squadron in September 1944. While flying the twin Lockheed P-38 in "trail formation" the plane in front of Ben's malfunctioned and slowed rapidly. "I barely slid under the plane, but another P-38 took my vertical stabilizer off with his wing as he evaded the slowed plane," Ben wrote in his memoir. He had no rudder or elevator control. At 400 miles an hour, the plane went into a vertical dive. Ben had no choice but to bail out. His plane hit the water and sank in seconds. He cut his chute away before it pulled him under but his life raft would not inflate. Sharks were known in the area. Ben treaded water until a native in a sailboat pulled him out. An Army boat took Ben back to the base where an Army doctor gave him a belt of Scotch. Early the next morning, he was back in another P-38 on a formation flight.
In the meantime, petite little RN Agnes Butchovsky, — affectionately known as "Butchie" — was working aboard the hospital ship Republic. The ship broke down near the Canal and had a lengthy wait for parts. It was a "lucky break," for that's when a friend arranged Ben and Butchie's blind date that would change their lives forever.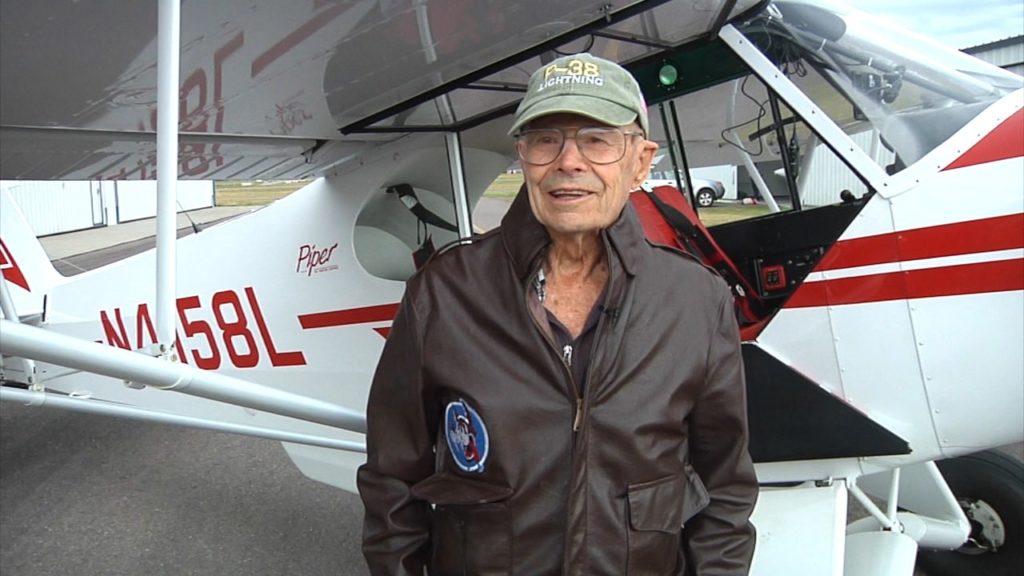 After a nine-month courtship they were married in Denver on June 8, 1946.
In March Ben was discharged from the Army and roughnecked on an oil well near Livingston, Montana. That fall the couple returned to Stanford to get his petroleum engineering degree. Butchie worked at the Palo Alto Hospital.
He joined Richfield Oil Company in September and monitored wells in California. He was assigned to Wyoming to manage the Mountain States exploration, then in 1956, the Company sent Ryans to Caracas, Venezuela. Upon the ouster of Jiménez, they were transferred to Los Angeles. In 1961, they transferred to Anchorage, Alaska. With two of his fellow employees they purchased a Cessna 172. Ben enjoyed flying, hunting and fishing with a kayak he'd built.
Richfield was a leading explorer in Alaska and Ben's job was to recommend where to drill. This was before the North Slope's significance was known. Ben concurred on a report about promising oil sands south of Prudhoe Bay and recommended they act soon. Before long, men and material were moving north into what became the Prudhoe Bay oil field.
Ben left the Company in 1965 when Richfield and Atlantic merged and Ryans moved south. The couple purchased a quarter section of timbered land above West Glacier, Montana calling it "home" after Panama, California, Wyoming, Venezuela and Alaska. Together, they constructed an A-frame home, surrounded by stunning views. Ben designed and built a sawmill from which he sawed lumber to build a shop and hangar. Always a partnership, the couple shared the challenges of living remotely in a land of heavy winter snows. Neighbors vouched for their self-reliance, even witnessing the pair repairing their heavy crawler-tractor together.
In the early 1970s, he began clearing the dense lodgepole pine for a 2,500-foot airfield. To create the parklike finish, he acquired a road grader from his mother's contracting and mining business.
Ben built his first airplane in 1974. The maiden flight was in October, 1977. Butchie had helped in its construction and was not a bit hesitant to fly with Ben. He built a Fisher Classic bi-plane, then a World War I Fokker Tri-plane. There were no plans, so he simply enlarged Cleveland model airplane plans.
Ryans were introduced to the Recreational Aviation Foundation in 2005. Its mission to create and maintain recreational airstrips for public enjoyment resonated with them and triggered their desire to donate their property to the RAF. "Ryan Field is for everyone to enjoy," Ben often said.
The couple moved to the Montana Veteran's Home in Columbia Falls in May of 2012. "He will be greatly missed by staff and residents," according to the obituary prepared by the Veteran's Home.
Ben is survived by his wife of 71 years Agnes "Butchie" Ryan.
Mass is planned Tuesday, August 1 at Catholic Church in Columbia Falls at 10 am with honor guard to follow at Montana Veterans Home Cemetery.
Memorials in Ben's name may be made to the Recreational Aviation Foundation, 1711 West College St., Bozeman, MT 59715 or the charity of your choice.
Have you been to Ryan Field? Share your experience with us at contact@theraf.org
Submitted on July 29, 2017.