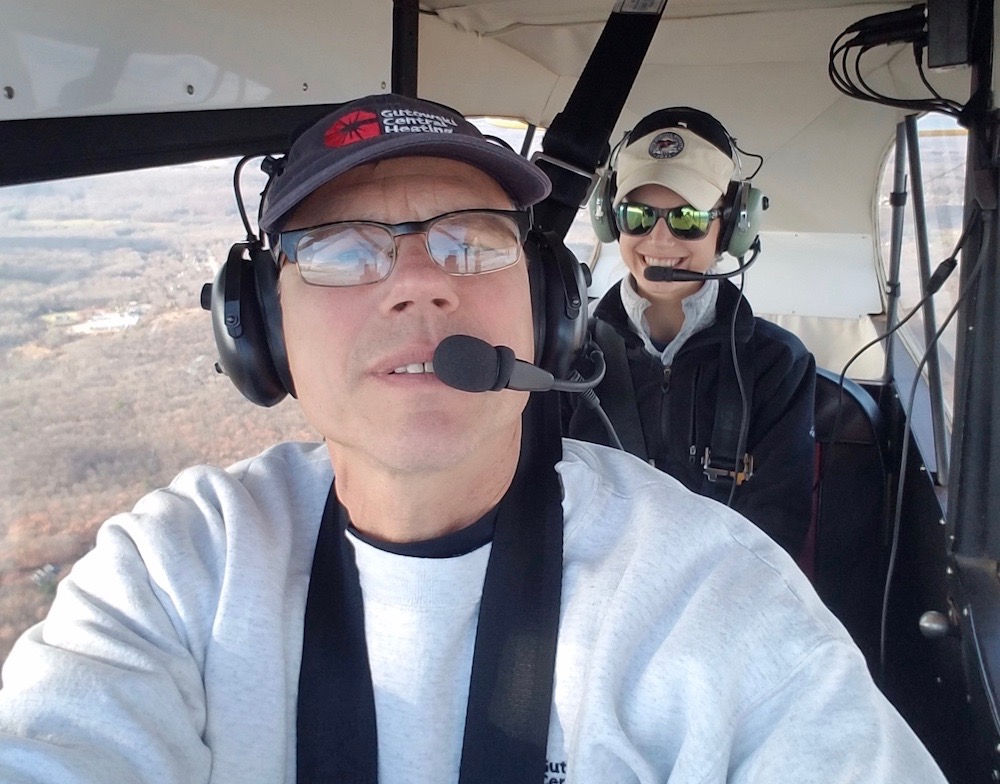 So, where does the name "Bogdan" come from?
"Poland" is his answer. Bogdan's parents immigrated to the East Coast when he was a child. "They were farmers in Europe, and came over with the four of us kids, and like many Poles, Dad went to work in the steel mills," he explained.
Bogdan chose the construction field, and approached flying in an unusual way. During a Christmas break when his kids were home from school, he noticed that one of his two daughters had gone on the FAA website and selected the free PDF flying handbook. He picked it up and began studying for his pilot license.
"I also discovered that Piper Cub plans were in the Public Domain," he said. Being a builder, it seemed reasonable to him to just order a bundle of tubing, fabric, and wire from Wag Aero and start putting an airplane together, like he would construct a building. "The challenge was getting a decent reliable engine," he said. To solve that problem, he bought a bargain Cessna 150, thinking he could "scalp the engine out of it for the homemade Cub," but he enjoyed flying his little Cessna so much, that plan fell by the wayside. He learned soft and short field techniques, and found his niche in flying. Exploring turf fields soon fit right in to his other outdoor interests of winter camping and sailing.
He met RAF and EAA people along the way, "folks who are very passionate about keeping up older airplanes," he said. One of them put him in touch with a 1946 Aeronca Champ that needed a new home, and he's been flying it ever since.
The daughter who was intrigued with aviation in high school helped volunteer to contact owners of private airfields in Connecticut. She was gratified when she got many positive results. Her dad took her to Oshkosh, and she soon earned a scholarship from Embry-Riddle and went on to become an airport safety technician. She refers to her branch of Civil Engineering as "Paviation" as in Pavement for Aviation.
When Bogdan attended an RAF presentation in Meriden, CT years ago, he knew he wanted to get involved. Now that he is slowing down to partially retire from construction, he looks forward to helping more toward the RAF mission.
"I'm very grateful to RAF for their support of Goodspeed airport," he said. "I await the day when I will be camping on the field with the rest of the RAF crew," he added.
Story by Carmine Mowbray
Submitted December 18, 2020