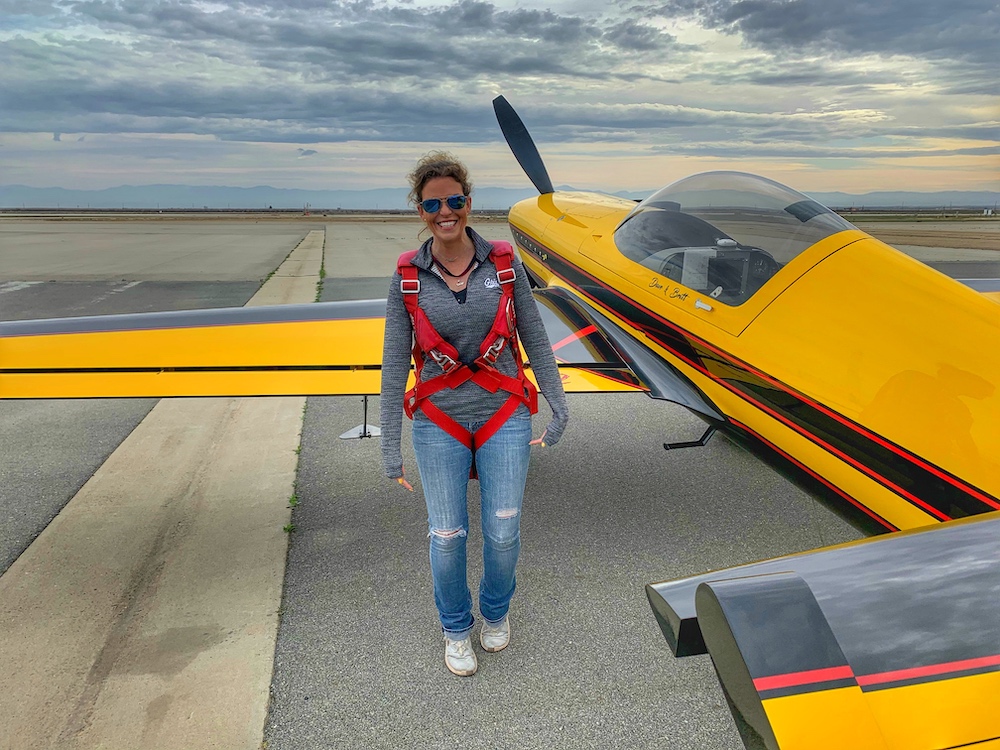 Aviation runs deep in Lincoln family history. Brittanee grew up on a Montana ranch next to her family's grass airstrip. She loved exploring the backcountry with her father who taught her to fly. Britt became their fourth generation pilot in 2017, and obtained five ratings within a year. At the age of 38, Britt has "retired" from her career in finance and is pursuing her aviation dreams.
Britt and her husband – also a rated pilot – live in the San Francisco Bay Area. She flies a corporate King Air up and down the West coast, but her passion is aerobatic flying. "I fly for wonderful people who respect my schedule of training, flying and judging competitions," she says.
Aerobatic competitions occur throughout the US, and of the last ten in which she competed, Britt won eight. She is only the eighth woman to receive the Unlimited Smooth and All Five Achievement Awards in the 50-year history of the International Aerobatic Club. These awards are achieved by pilots who demonstrate proficiency flying a set of aerobatic maneuvers for each level of competition aerobatics, with "Unlimited" being the highest level. She is president of the Northern California IAC Chapter, and co-chairs the IAC Achievement Awards program.

Britt's competition airplane is a super high performance 345 hp carbon fiber MX2, weighing in at just under 1,300 pounds, serial number 10 out of 12 models. Keep your eye on contest results, as she is working to earn a spot on the US Aerobatic Team to compete at the aerobatic world competition, equivalent to the Olympics for aerobatic flying.
The RAF keeps Britt busy as its volunteer social media coordinator. Britt and her husband also love to fly the family's SuperCub. "No matter what else I do, I grew up flying off grass strips, and that will always be my roots," she says. "Flying our SuperCub takes me to special places that feel like home," she added.
Submitted March 15, 2021
By Carmine Mowbray