Publicity Liaison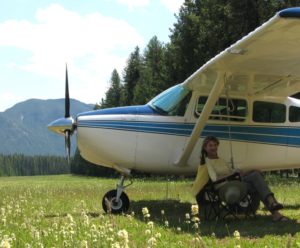 Carmine Mowbray, from Polson, Montana, volunteers her time to publish the semi-annual RAF newsletter. She helped construct the pilot shelter at Ryan Field, and is willing to swing a Pulaski cutting sagebrush, cut trees, or cook for a work party.
Carmine is a native of western Washington, moving to Montana in 1973. She and her former husband built a regional printing plant, and published a chain of award-winning weekly newspapers. For nearly two decades they flew a Turbo Lance to manage their six locations around Montana. At the same time they were raising four children, all of whom graduated from Montana universities and one who is now captain at a regional airline.
Mowbrays sold the publishing enterprise to a larger chain in 2000. At that time their company employed 50 people.
Not one to take retirement sitting down, Carmine then served on the board of a local bank, produced an award-winning radio show for Montana Public Radio, and taught motorcycle safety for nine seasons. She served in Montana's Senate and says, "It's a real honor to have served Montana and my community." She now serves on the local hospital board, and has written two historical novels, one about the pilots who delivered warplanes to the Soviets during WWII.