Publicity Liaison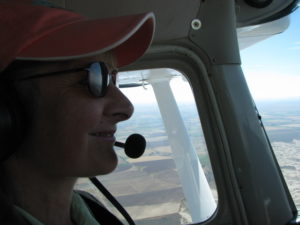 Remember when avgas was 68¢ a gallon? Carmine was just learning to fly in a 150-hp TriPacer, and wondered how to afford to keep flying. These four decades later, she still loves flying. "I'll give up lattés, professional pedicures and even shoes to keep flying," she says. So far, it hasn't gotten to that point.  
When she learned of the Recreational Aviation Foundation's mission, she signed on, beginning by helping build the Ryan pilot shelter, and chopping sagebrush on Missouri Breaks airstrips with a pulaski. 
Carmine was raised in western Washington, and moved to Montana as soon as she was of legal age. Her first journalism job was with the Missoula daily. She and her husband started a print shop that they built into a regional printing plant serving western Montana, and published a small chain of award-winning weekly newspapers. For nearly two decades they flew a turbo Lance to manage their six locations around Montana. They sold the enterprise to a larger chain in 2000, divorced, and she began Clarity Communications, produced an award-winning radio program, and served in Montana's State Senate. "It's a real honor to serve in the Legislature, and very stimulating to be surrounded with 49 Type-A workaholics who consider arguing a sport," she adds. 
She has written two works of historical fiction, one about the pilots who flew from Montana to Fairbanks delivering nearly 8,000 warplanes to the Soviets during WWII. Her book website is authormargomowbray.com. During summers she lives near Flathead Lake, and flies her Cessna 182 to her winter home in St. George, UT, "where it's VFR almost every day."
Merilee, one of Carmine's four adult children flies for a major airline, as does Merilee's husband. Carmine gets her journalism fix by serving as the RAF's publicity liaison. "RAF leadership devotes an incredible complement of skills to the organization. I am honored to be part of the RAF, plus I get to fly my old 182 – with its Sportsman STOL – to some outstanding places and meet great people," she adds.