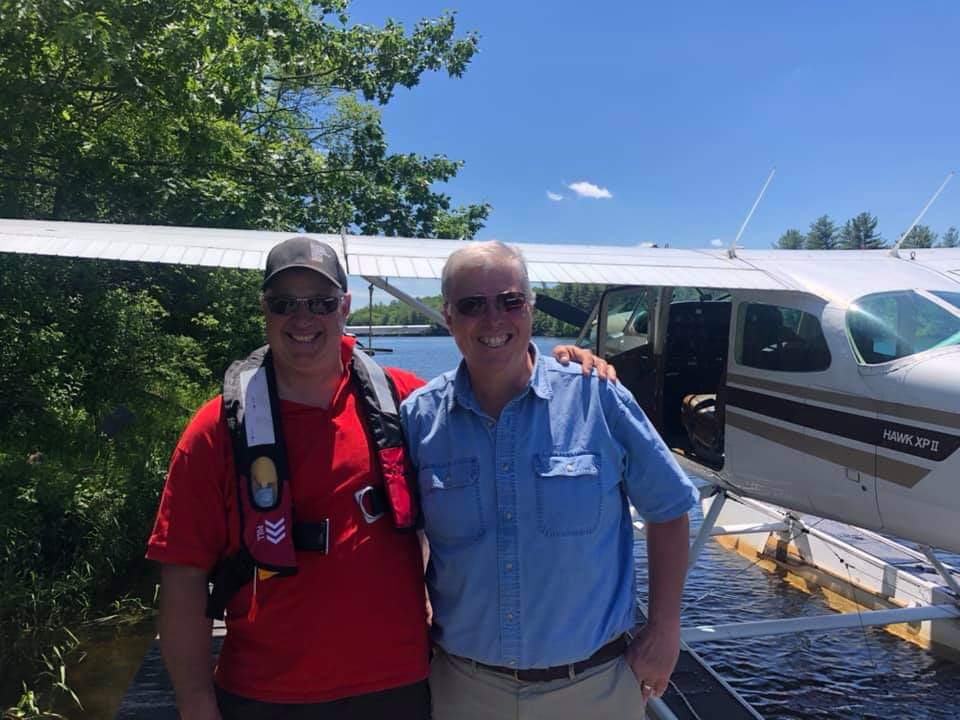 Chris Arno of Dover-Foxcroft, Maine manages to mix his passion for flying in with his family of six, and the company he owns with his father, Northern Line Construction that builds and maintains utility power lines.
He acted on his long-standing love of flying in Bar Harbor, Maine in May of 2019. "I happened to be driving by Acadia flight and decided to go for it!" he says. Chris trained at Central Maine Aviation in Pittsfield with owner/instructor and RAF supporter Charlie Surprenant. Within a month, "I did something really stupid and bought a 1969 Piper Cherokee 160 so I didn't have to rent a plane," he said. He solo'ed on July 3.
So, why not fly to Texas for the National STOL competition with another new pilot? Texas in November is pretty nice compared to Maine. "It was a trip that we won't forget. The weather wasn't playing nice." It took the two VFR pilots 21 hours to get there, and 15 hours and five days to get home. "We met great people. Huge shoutout to Barbara Maxwell at the Perryville, Missouri Airport for the hospitality and awesome crew quarters where we stayed."
Just six months later, Chris explains, "I did another stupid thing and bought a 1942 Aeronca Super Chief on floats before getting my seaplane rating," and he discovered the amazing experience of float flying in Maine. He claims there are "way more places to land on water and eat than there are at airfields!" He logged 50 hours of float time in the old Chief before embarking on the project to rebuild its wood and fabric wings.
Chris received spin and aerobatic training, and is working to complete his commercial and instrument ratings. Chris plans to build a Cessna L-19 Bird Dog with friend Steve Noyes. With hydraulic wheel skis and floats, and 540 Lycoming, "I'll be able to explore backcountry places AND they will stop making fun of me for bringing my Cherokee," he says.
In addition to fun flying, Chris has discovered a way to fly for community service. He participated in "Wings for Wishes" to benefit the Make A Wish foundation serving children with life changing illnesses. "Together with a great group of pilots and the public, we raised $28,000 to make wishes come true for at least four of these children." He anticipates even bigger results next year.
When the Dover-Foxcroft town manager announced that Charles A. Chase Jr Memorial Airport's beautiful 3,000-ft grass runway would be closed to install a solar farm, Chris knew the community would never get its airfield back once it was gone. He helped create a Facebook page, "Save the Charles A. Chase Memorial Airport" that gathered huge community support. RAF Maine Liaisons Steve Mason and Andy Rowe offered to help. On a cold snowy night, RAF Massachusetts Liaison Rene Robillard and New Hampshire Liaison John Meade made the normally four hour drive – on a good day – joining Steve Mason to speak at a town meeting prior to the final vote. "The RAF was instrumental in the fight to save our airport," Chris states.
"With additional help from AOPA, Maine Center for Classic Aviation, Maine Aviation Association, countless pilots, the people of Dover-Foxcroft, and the family of Charles A Chase Jr., we were able to change the Facebook page to "SAVED the Charles A Chase Memorial Airport," he said.
He reports lots of new activity at his beloved 44B. More GA traffic, new hangars, fly-ins and STOL competitions are in the works. There are plans to build a new pilot building, camping sites, fire pits and covered picnic areas. He said, "I would like to thank the RAF for myself, and on behalf of the Chase family for all their help keeping aviation alive in our community!"
Submitted on September 10, 2021.