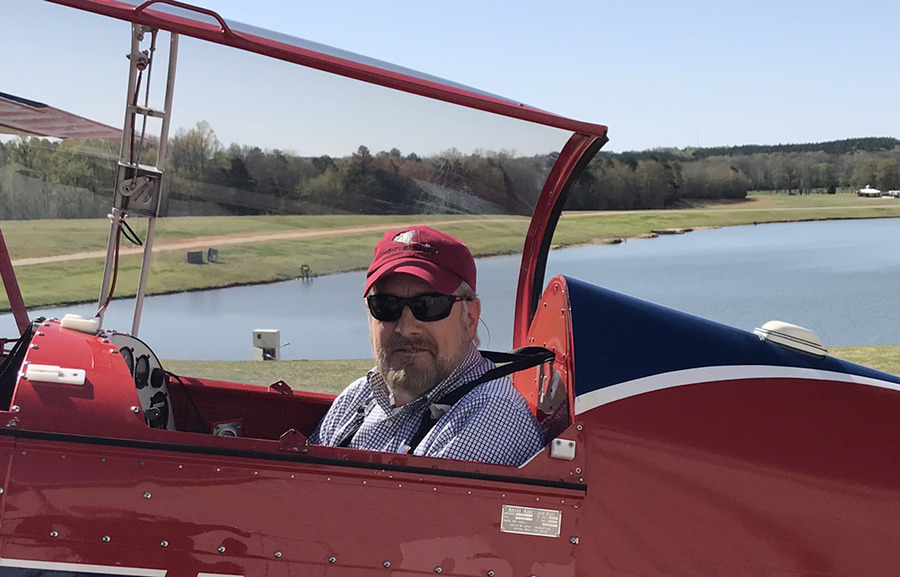 A lifelong resident of Greenville County, South Carolina, Chris Sullivan started flying in 1991 largely inspired by his Uncle John who had been a Marine Corps fighter pilot in the Pacific theater, and later flew a Mooney for business.
Chris explains that back in the early sixties, Greenville was still a sleepy
little Southern town. When his Uncle John's business travel brought him close,
he would buzz the house. "Momma would say, 'There's John,' and we would all
pile in the car and drive out to the airport to meet him. For most of my
childhood I called all airplanes 'John,'" Chris said.
Chris currently serves with the local Civil Air Patrol squadron, and is on
the leadership team for the local Upstate Aviation Club which hosts monthly
social affairs.
While researching the Royal Air Force online, Chris discovered the
Recreational Aviation Foundation. At first, it seemed to him that there isn't a
lot of "backcountry" flying in South Carolina, especially after having spent
several weeks flying to Alaska and down the coast of Oregon and California. He
made what he calls "a modest contribution" to the RAF because, "it was
something that needs to be protected," he said.
"I had the opportunity to get more directly involved with the RAF project at
Creighton Island, Georgia. I started to realize that perhaps the world of
backcountry flying was bigger than I realized," he says, adding, "South
Carolina is experiencing an accelerating development boom, which makes
protecting what we have even more important."
csullivan@theraf.org
864-660-9188