Director Emeritus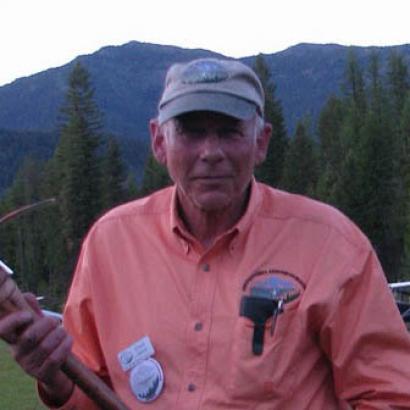 Starting out in a Piper Super Cub, Chuck got his private rating in 1960. Seeking further flying knowledge, he gained his commercial and glider licenses in 1961; then seaplane and instrument ratings. He bought a brand-new Cessna 180 in 1976 and began exploring North America from the air. He and his wife Penny have a map of the Continent, criss-crossed with their flights.
Chuck can count the number of controlled airports he's used, preferring more remote areas. From Nome, Alaska, to Panama; and to the northern tip of Labrador in eastern Canada he's accumulated over 5,000 hours. His passion is for the backcountry and the recreational experience it offers. He still enjoys his 180 on wheels but added a 1975 Cessna 185 on amphibious floats several years ago.
Chuck brings a wealth of knowledge on natural resource management to the RAF. His career spanned thirty years as owner/operator of a 7,000 acre cattle ranch in northwestern Montana. He's received awards for excellence in grazing land management and soil stewardship. He served on a National Academy of Sciences committee, writing a book on evaluating rangeland health. Chuck is the go-to guy on weed control, having served ten years on Montana's noxious weed advisory committee.
His professional associations include Society for Range Management, Montana Stockgrowers Association, past president of the Western Montana Stockmen's Association, and Montana Beef Council-all of which offer vast background in public lands issues and environmental concerns.
Besides being a founding director of the RAF, the Montana Pilots Association (MPA) tapped into Chuck's experience, seating him on its board of directors.
Chuck's involvement with the RAF has been extensive. In addition to sweat-equity projects like the campground, shelter, and airstrip improvements at Ryan Field near Glacier Park, Chuck compiled the RAF's "Recreational Airstrips, Issues, and Opportunities." He drafted language for the recently-passed US House Resolution supporting recreational aviation and airstrips; and led the cooperative effort between the RAF and MPA to preserve six airstrips within the Upper Missouri Breaks National Monument.
What motivates Chuck to work tirelessly for the RAF? "I didn't want the next generation of pilots to say, 'Why didn't someone do something to preserve those airstrips when they had the chance? Now it's too late.'"
406-883-2248