Director Emeritus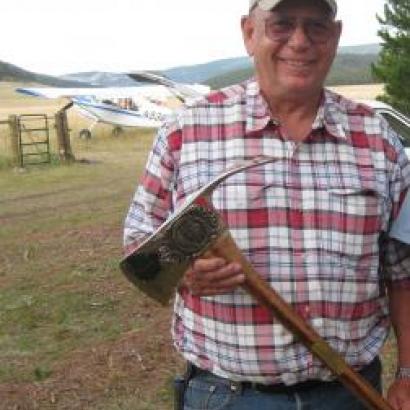 Dan Prill, a founding member of the Recreational Aviation Foundation, spent ten years on its Board of Directors; eight years as Vice President. Dan was instrumental from its initial formation to helping the organization attain 5,000 members by the end of his term in 2013. "It has been a rewarding journey," Dan says, adding, "I am very proud of the RAF army of volunteers who work so hard to advance the RAF mission. Our 25 State Liaisons and each of our many volunteers wear their volunteerism as a badge of honor."
The organization began in Montana, because the Founders knew the issues and had already made many land manager contacts. "While working in Montana, we formed our mission and learned the right way to do things," Dan says. The RAF then used those principles to advance its mission throughout the country. "The RAF has always taken the 'high road' when dealing with policy makers. Our data is factual and science based. We also approach issues in kind and courteous manner."
The RAF is especially proud of Dan's work getting the Russian Flat Airstrip approved and built in Montana's Lewis and Clark National Forest – the first new airstrip on U.S. Forest Service land in over forty years. Dan worked throughout seven years of meetings and two more years of construction with all volunteer labor, so today many people can use the airstrip for camping and recreation. Dan was awarded the RAF's Golden Pulaski for his work on Russian Flat at an annual fly-in there.
A key to advancing the RAF mission is educating land managers, policy makers and Senators and Congressmen. Dan has been to Washington, D.C. many times during his tenure. The U.S. Forest Service adopted its new planning rule during a six-week series of meetings, and Dan attended all of those meetings. His time and expense paid off, as today the Planning Rule acknowledges the importance of recreational aviation. RAF volunteers carry on Dan's commitment to the process, and attend the public meetings.
The RAF website is critical to its mission. When it had to be upgraded, Dan volunteered to be the "project manager" and worked with John Kounis of Pilot Getaways magazine. The improved website now incorporates a membership database and is invaluable to the operation.
Aviation trade shows have played a large role in RAF's growth, and Dan and his wife Margie have attended nearly all of them. Margie always pitched right in to help with the work and the hospitality.
Dan has traveled all over the country during his tenure on the board. He treasures the friendships he and Margie have made. "Even though I won't be a director, I will still work hard for the RAF in any way I can," Dan says, and urges others to support the organization by volunteering or donating, "and enjoy the resources of recreational and backcountry airstrips. The airstrips are why we do this, so go enjoy them."
406-788-1185
dprill@theraf.org