Each month we highlight an airstrip that the RAF has positively impacted. We hope that you will get out and enjoy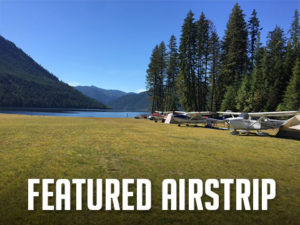 these airstrips. This month's Featured Airstrip is Sullivan Lake in Washington.
In the northeast corner of Washington State, Sullivan Lake offers the opportunity to land on either water or land. Float planes can land on the pristine lake and wheeled aircraft land on the turf 1,765-ft airstrip (Metaline Falls, 09S).
It is a very special place with plenty to do with the whole family after you land or splash in. This airstrip offers many recreational opportunities, such as fishing, hiking, mountain biking, and swimming. There is a USFS campground adjacent with seasonal camp hosts, water, vault toilets and bear-proof garbage receptacles. We suggest you pack hiking shoes, swimsuits, fishing poles and s'mores fixins'! The beautiful view of the lake makes it a great place to spend time with friends, family, and fellow aviators.
Work parties at Sullivan Lake usually include pulling weeds and filling in pesky gopher holes. The next work party at Sullivan Lake is August 2-4, 2019. Learn more about this work party here.
Submitted on June 19, 2019