FEATURED AIRSTRIP: CINDER CONE DRY LAKE BED, CA
Each month we highlight an airstrip that the RAF has positively impacted. We hope that you will get out and enjoy these airstrips. This month's Featured Airstrip is Cinder Cone Dry Lake Bed in California.
Cinder Cone Dry Lake Bed is a public use airstrip located roughly 11 miles north of the census-designated place (CDP) Inyokern in California.
With permission from the BLM Ridgecrest Field Office, RAF volunteer California State Liaison Rick Lach performs various maintenance duties at Cinder Cone. With the help of volunteers, Rick drags the strip when it gets eroded by vehicle use, and monitors the condition of the airstrip's windsock, changing it out when needed.
The Fossil Falls Formation (see attached snapshot from Google Earth) is a nearby recreational opportunity. Camping is available at Cinder Cone, although no water is available, so be sure to bring your own.
The airstrip is smooth and hard as concrete unless wet. Do no land when wet. Watch out for occasional ruts from cars that have driven on the lake bed when it is wet.
Stay west of the power lines to avoid restricted area R-2505.
Runway #1 35.982/-117.899
2100'x50'
3320 MSL​
For more information, contact RAF volunteer CA State Liaison Rick Lach at rlach@theraf.org or 661-345-7755.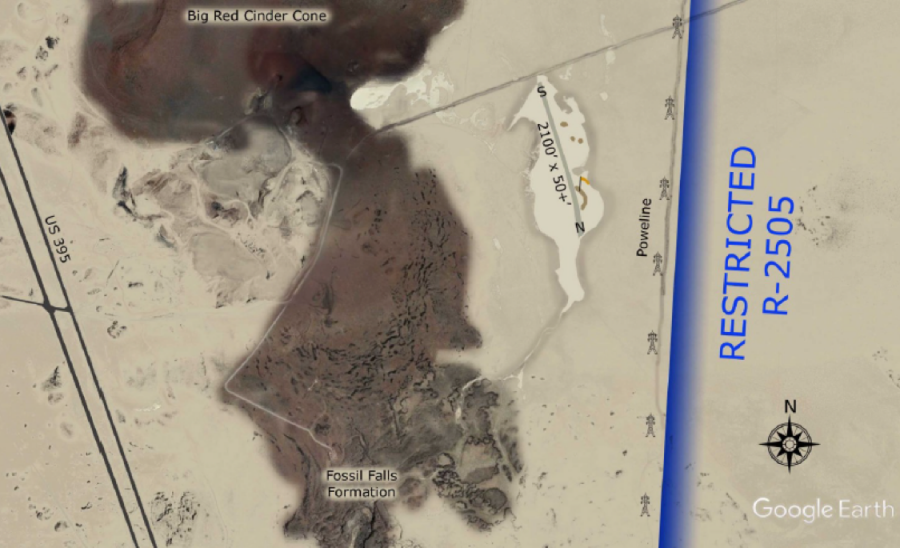 Submitted on December 2, 2018