FEATURED AIRSTRIP: GRAPEVINE, AZ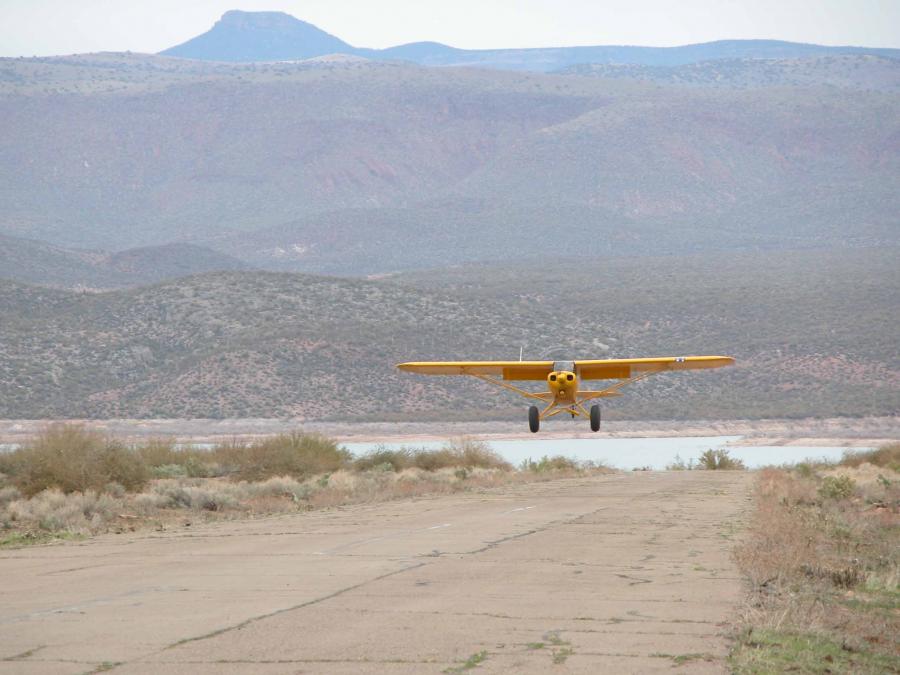 Each month we highlight an airstrip that the RAF has positively impacted. We hope that you will get out and enjoy these airstrips. This month's Featured Airstrip is Grapevine (88AZ) in Arizona.
Grapevine airstrip is located on the Tonto Basin District of the Tonto National Forest, 43 miles east of Scottsdale and is just 1400' from the south shore of Roosevelt Lake, the largest body of water in central AZ. First constructed in the 1950's and asphalted in the 1980's by the Bureau of Reclamation and ultimately closed in 1997 by the FS. In 2012, following our success at Pleasant Valley and with a positive recommendation by that District Ranger, the RAF and APA negotiated a volunteer work weekend with District Ranger Kelly Jardine in order to clear years of tree and shrub growth along the runway edges. With 80+ volunteers and three days, the airstrip was made usable again. Group gatherings are held on the third weekend of the month, with the APA providing a Port-A-John at midfield and a host for your convenience from September through May. We continue to work with DR Jardine and Forest Supervisor Neil Bosworth to regain full time use of this airstrip, which we are hoping will happen when our National MOU is completed between the RAF and USFS.
Grapevine is unique among backcountry airstrips in that it is asphalt, 40' wide and 3,400' in length. This attribute making it a favorite destination for aircraft less adapt to serious backcountry airstrips. Don't be fooled by this as a visit here will place you in one of the most beautiful examples of Sonoran Desert beauty, and solitude, including towering Saguaro cactus, and prickly pear cactus, Ironwood, and Paloverde trees, along with a plethora of desert animal life. The area is closed to others, including automobile traffic, so while only a 20 minute flight east of Phoenix, you'll enjoy complete solitude, other than a few other pilots. With the appropriate state fishing license and a short walk to the lake, there are plenty of large and small mouth bass to be had down at the shore. Download a safety briefing at http://azpilots.org/more-resources/backcountry-airstrips
Arizona volunteer State Liaison Mark Spencer says "while AirNav states 'prior permission required to land," no prior permission to land is required. The USFS has only asked to keep track of usage as a measure of how popular the airstrip is, so if you visit, zip an email off to grapevine@azpilots.org.
Submitted on January 5, 2019