FEATURED AIRSTRIP: LAKEWOOD LODGE, WISCONSIN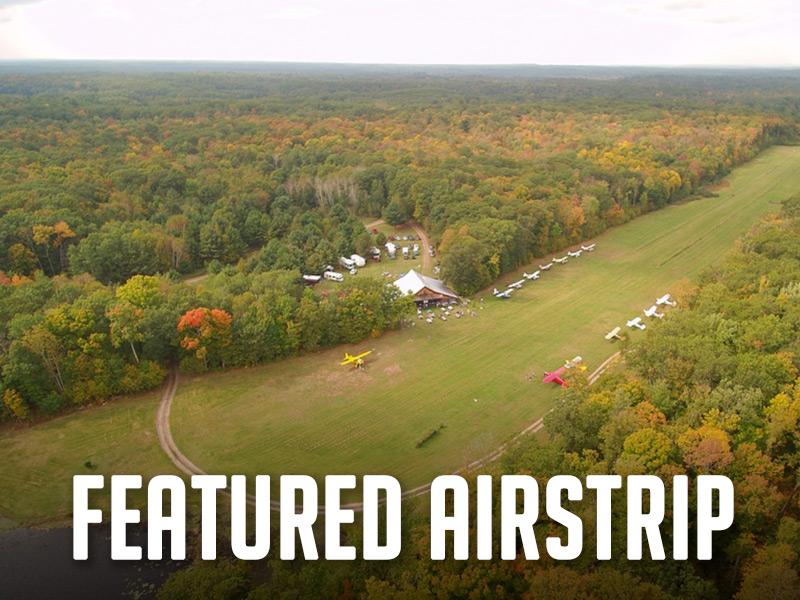 Each month we highlight an airstrip with hopes that you will get out and enjoy these special places. The September Featured Airstrip is Lakewood Lodge Airport in Wisconsin.
Bob and Judy Gillette's Lakewood Lodge Airport, 14WS checks a lot of recreation boxes. Originally a resort back in the 30s-40s, its historic namesake lodge burned, but the airport still features camping, canoeing, cycling, swimming, and fishing – accessible from its 2,400-ft turf runway. But the biggest attraction is EAA Chapter 631's annual picnic at the airfield. Bob served as chapter president for 20 years, and said, "Our chapter meetings didn't allow enough time to really get to know each other, the wives, kids, grandkids, and dogs, so we decided to turn it into a four-day picnic here at our airport." This year, the event begins on Thursday, September 8. There's a fish fry on Friday eve, picnic on Saturday, and Sunday morning's meal features a hearty "everything" scramble. They ask people to RSVP for food planning. 
Gillettes added an RV campground in the pine trees with picnic tables, fire ring and electical hookups. There are tie-downs, and airplane camping is allowed as well. "It looks real nice, with all the planes lined up," Bob said.
On the edge of Wisconsin's Northern Highland geologic region, Lakewood Lodge Airport lies at 1,355 feet, not far from Timms Hill at 1,951 feet, Wisconsin's highest elevation. The area has many glacial lakes.
The nearby town of Stone Lake fills the first Saturday of each October with thousands of visitors celebrating the annual cranberry festival. If you can't fit the public festival in your schedule, consider dropping in during autumn colors. The area is wooded with deciduous forests in all directions, a scenic contrast to its lakes. The field is not plowed, and Bob flies on skis in the winter. "Cross country skiers can land and head to town for a hot chocolate to warm up," he added.
The owners kindly request that you contact them at 715-865-2902 prior to landing and leave a message if no one answers.
For more information, see the Airfield Guide.
Submitted of August 25, 2022.