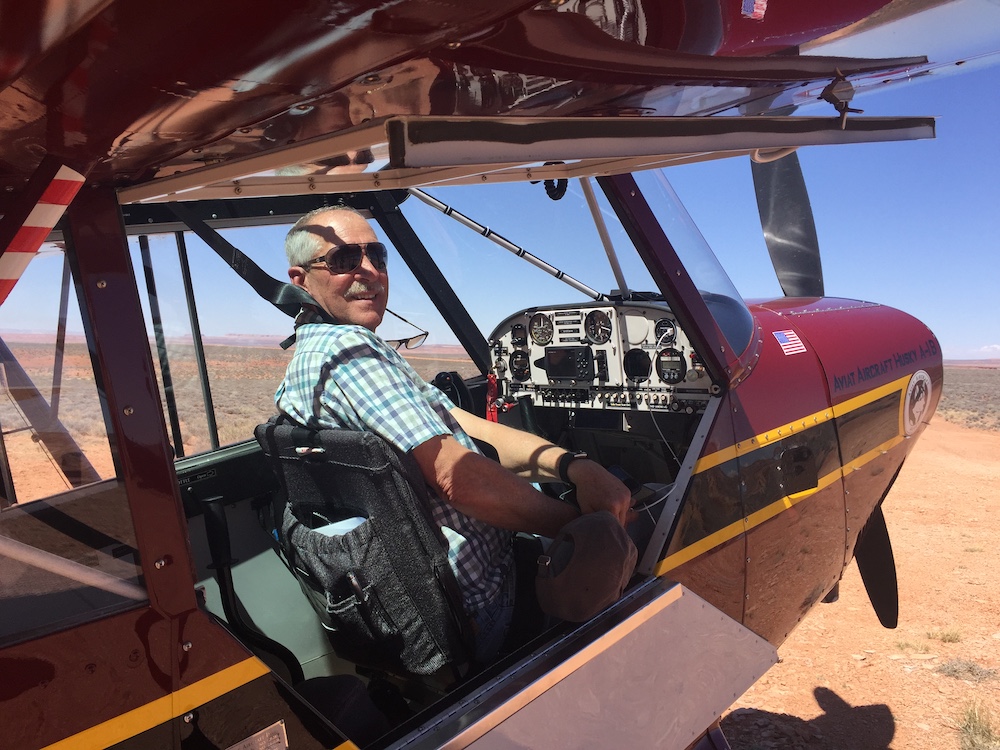 John was one of those second graders who liked to take things apart. Unlike many, he managed to put things all back together, usually in better condition.
Strictly with efficiency in mind, John's flying was inspired to shorten the family weekend commutes from their home in Salt Lake City to Lake Powell for recreation. One day in 1991 he was working on a roof where he could see activity at the local airport. He went over, handed an instructor $35, who put him in the left seat of a C-152, and let him take off. "I was hooked," John said.
He got his rating, bought a Mooney and flew the family all over the country in it efficiently, which is important to John, a busy real estate developer along the booming Wasatch Front. His interest in warbirds led him to ratings in a T-6, a Stearman, a P-51; and he served the Utah Wing of the Confederate Air Force as a pilot in the late 1970s.
"I love to work with my hands" he says, and he built a Pitts biplane.
But something happened. He met Wendy Lessig and others at a Utah Back Country Pilots meeting, and heard about their adventures in the backcountry. He was impressed with the airstrip improvement projects they had completed, and were planning. He got involved, and was invited to serve on their board. The Mooney turned into a Husky, and he found real enjoyment "meeting like-minded people," he said. "Wendy is an amazing pilot. I have never asked her about a place she didn't know," he said. "Once she pointed out a herd of wild horses below us." (Wendy serves on the board of UBCP, and as an RAF Utah Liaison.)
For similar reasons, John also joined the Idaho Aviation Association. He learned about the RAF at CubFest, and became a supporter because "it's going the right direction," he said. "Preserving backcountry places, and connecting with the right government people."
Now John is a stockholder at Bountiful's Sky Park where he and his wife own a hangar for the Husky, but being the hands-on builder he is, a Carbon Cub will soon replace it. So you'll see John out in the backcountry in his new Carbon Cub, either fixing something, or on the end of a hand tool at a work party.
Submitted on July 29, 2020