Recently, I had the great privilege of introducing Craig Fuller, President of AOPA, to Montana backcountry flying.
The flight needed to take place near Billings, Montana. As a crow flies Billings is over 150 nm from my home in Helena, and even further from the mountains and backcountry airstrips I know very well in western Montana. This is where networking with my fellow pilots came in. I hit gold when I talked with Scott Newpower, a Billings pilot, air traffic controller, and Eastern Director of the Montana Pilot's Association (MPA). Scott mapped out sixteen airstrips that were just right for the flight. The airstrips have no markings and no wind socks. Some land uphill and takeoff downhill; others are uphill both ways! All have uneven surfaces. Among the sixteen are strips oriented in virtually every direction. The situation is perfect for training a pilot to assess unfamiliar strips: always overfly the airstrip first to determine wind direction and strength, landing pattern altitude, approach and departure path, surface conditions, and go-around options.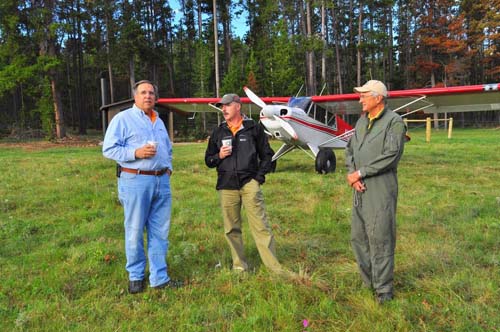 To prepare myself for the training session, I twice flew our Cessna 180 to Billings to scout out these new-to-me airstrips and to locate some nearby mountainous terrain which would be suitable for introducing mountain and canyon flying skills. A bonus on these flights was finding a high elevation airport which was ideal for demonstrating the effects of density altitude.
The third part of the perfect Montana backcountry introduction was to find a Husky like the Husky that Craig flies. Again, having the support of the aviation community makes all the difference. The pilots of the Recreational Aviation Foundation and MPA were more than happy to help. Jerry Cain from Lincoln, MT, one of the founders of the RAF, flew to Helena with his Husky a few days before my flight with Craig. We worked hard with me flying from the back seat landing in strong crosswinds on a short turf airstrip in Helena. For the flight with Mr. Fuller, Jon Hudson, a pilot from Bozeman and President of the MPA, made his beautiful Husky available.
Thus I was not only privileged to spend the day flying beautiful Montana with Craig Fuller, AOPA's esteemed President, but I was also overwhelmed with the support of the Montana aviation community.
Thank you, Jeanne MacPherson, Mountain Airdance LLC.
Submitted April 30, 2012.